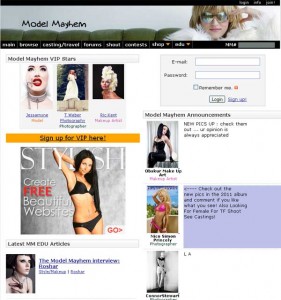 I get emails from readers inquiring about where to meet or hire models. Although I normally recommend new photographers to work with friends before they venture out and hire a model, I know that eventually the day will come when many of you will run out of friends!
Below are four sites that can be useful in finding and working with models.
1. Modelmayhem.com – Currently this is the top site most amateur and advanced photographers, makeup artists, fashion artists and models gather to meet, share and work with each other. It's large enough that you should be able to find some near you. But remember, its a photography/modeling site, not a dating site. The site is free to join but does have an option to upgrade as a paying member.
2. Onemodelplace.com – One of the oldest model sites, however due to the rise of Modelmayhem, it seems this place has been left a little behind. Still worth visiting. Note that they do have a free membership but with limited features.
3.

Craigslist.org
– Although not a photographer/modeling portfolio site, Craigslist still manages to be a source for hiring models/photographers. Pick your city then go to gigs>talent for a list of photographers and models looking for work.
4. Meetup.com – This site is more of a source to meet other people in your area that share the same interest. In the U.S., you can search for photographers on the site and in most states they have groups that get together and have events. A sort of "group shoot" that may involve all types of photography with some focused on working with models. The events may require a fee, ask before joining or attending.
Thank you for taking the time to read this page. The information is always free but donations are always welcome, please consider donating any amount via the paypal button below: