Win a New D800 or 5D Mark III from Borrowlenses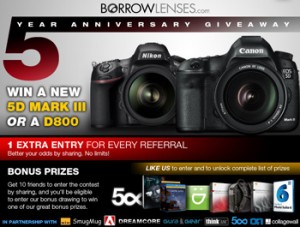 Update: This offer has expired.
Borrowlenses is celebrating it's five year anniversary by going a giveaway for the choice of a Nikon D800 or a Canon 5D Mark III! And you can win!
There's been several of these giveaways in the past by large photo online sites and they've become very popular. Especially when they gave away a D800 or the 5D Mark III. The only way to enter is through their Facebook page and they allow you to get additional entries.
I know, I know, you probably think the chances are slim to non that you'll win. Well, that of course all depends on how many people actually enter. I was always a non believer whenever it came to any raffle or online giveaway. That is until I actually won something. Then it was a series of wins after that.
In the last 2o years I've won a car, a trip to New York, a trip to Las Vegas, tons of free tickets to concerts/events and numerous cash prizes. The trick is to enter the right ones and of course the legitimate ones, and this one is a good and legitimate one that I recommend.
So in my case, because I'm so hard core into photography and I would love a Nikon D800 or a Canon 5D Mark III, I always enter these giveaways. To me it's a no brainer, it costs me nothing to enter yet I have a slim chance to win a price worth several thousand dollars.
Plus, I love to share the goods so as soon as I heard about this giveaway I had to let everyone know.
To enter the D800 or 5D Mark III giveaway
-Visit the Borrowlenses Facebook page.
or
– Click on the banner above.
Just in case you haven't noticed, a couple of weeks ago I added a different Nikon D800 giveaway that Adorama is sponsoring too. You can find it on the square banner on the right side of this page.
Good luck everyone. If you win, let me know!
Note: OutletPhotography.com is not associated with this giveaway or promotion. Any questions regarding it should be directed towards Borrowlenses through it's website or facebook page. Contest ends July 16, 2012 at 11:59PM PST.