The 2012 LA Auto Show – Cars, Models And More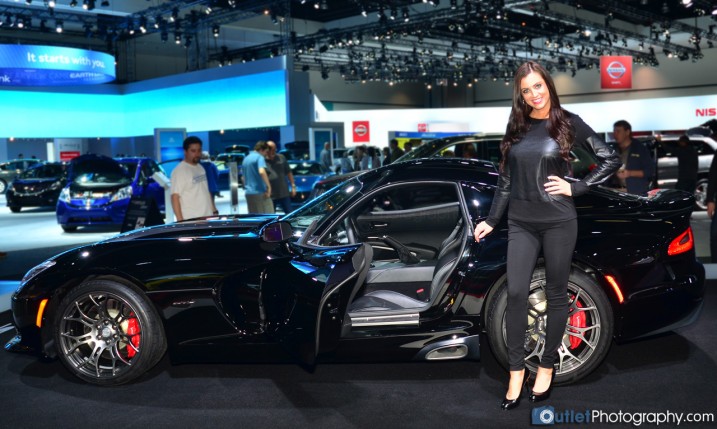 It's that time of year again, the 2012 LA Auto Show is in town and I spent all day taking photos of cars, promo models and yes even the Major League Soccer (MLS) Cup trophy.
Although I like attending these type of events I still have a lot to learn about shooting under these type of variable lighting conditions. Auto shows are broken up into areas or "exhibits", each having their own style of lighting and colors. This makes it very challenging to get good exposure while still maintaining sharp images.
Some of the exhibits are very well lit, while others use more directional flood lights to showcase the cars. The featured show cars normally had a promo girl modeling and/or explaining the highlights of the vehicles. However, most of lighting is positioned to enhance the cars not the models.
This is the issue that some photographers or anyone with a camera finds after reviewing the images at home. Often the photos are under or over exposed, whether you use a flash or not. So there are three basic options:
Use a high ISO, usually above 2000
Use your on camera flash
Use an external flash
During last year's event, I mostly used my on camera flash or existing light with a high ISO. This year, I opted for an external flash for the majority of the images with only a few utilizing the high ISO option.
As you know, using a high ISO on a newer DSLR wasn't much of an option just a few years ago. Most of the images had very bad "noise" if shot higher than 1000 ISO. But in today's newer DSLR sensors, it's possible to go beyond that and still have a usable image, especially if all you're going to do is show it on a website.
But if you intend to show the image at dimensions larger than 1000 pixels wide or high, you'll want to keep your ISO at the lowest possible number. In my case I chose to keep most of my photos (see below) at around 320 ISO while using my external flash.
All photos in the gallery except the last image was shot using a Nikon SB-910 speedlight.  I was happy with most of the images, although a few I found were a little over exposed. But this was only when a model was walking by the car, in and out of a flood light. Otherwise I like how the external flash gave me a wider coverage area than my on camera flash.
Overall, a combination of the three options mentioned above are best when shooting indoor car shows like the LA Auto Show. The lighting at these places are so uneven and with so much going on at one time, it takes a little preparation in order to get the best pictures possible.
See the full 2012 LA Auto Show gallery below.