Surfing, Bikini's and more – Vans US Open of Surfing 2013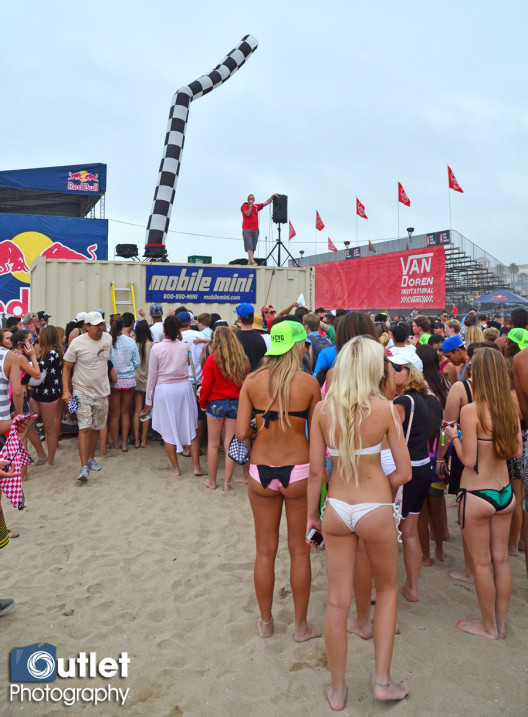 This past week, the 2013 Vans US Open of Surfing finally ended its nine day run in Huntington Beach.
Each year I spend several days covering the event, which includes lots of pro surfing and large crowds of people wearing tiny little bikini's, well at least the girls do.
There was a new sponsor this year, Vans stepped up after Nike didn't renew it after last year's event. Which it seems they lost out because this year's attendance was much more than any previous year.
The crowds were huge! You'll get to see that in some of the photos below.
If you've never seen some of my photos from the previous years, or if you don't live near a beach, then some of the images might be a little too much to handle. If so, then I'm giving you fair warning.
The US Open of Surfing starts on a Saturday and runs for nine days. The organizers literally build a small city on the sand. Including a large full size Vans store, a full custom build cement skate/bmx bowl with bleachers, concert stage and large stadium bleachers facing the beach with VIP and Media tents.
Yes, this is a big event. In fact it's the largest (in attendance) surfing competition/festival in the world.
First lets start the real important stuff, photos of the surf competition. Most local surf photographers look forward each year to this time of the summer. The worlds best surfers come out and compete in what normally includes average 4-7ft waves.

Early in the week there was a nice swell that produced decent waves. Crowd favorites like Kelly Slater, Alana Blanchard, Alejo Muniz, Carissa Moore among many others were in attendance. As well as the JR Pro Surfers like Tatiana Weston-Webb and Bianca-Buitendag.
Here's a few images of the surfers.
Behind the Surfing Stadium, the US Open of Surfing Festival Village was always full of people. Literally thousands of people are walking around in the temporary city built on the sand. With a custom build cement bmx and skate bowl to a large music stage to a full size Vans shoe/apparel store. This area is huge.
Many of the sponsors had booths with lots of giveaways and fun stuff for the visitors. I mean where else can you take a dip in the ocean then walk over in your bikini and ride a mechanical bull?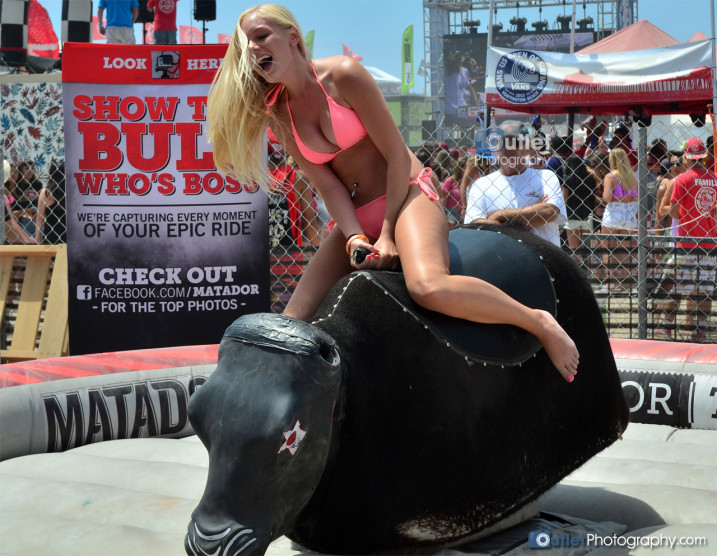 Or get a chance to win some cool prizes at the Casio Commando 4G LTE booth when in reality all you wanted to do is check out the hot sexy promo models?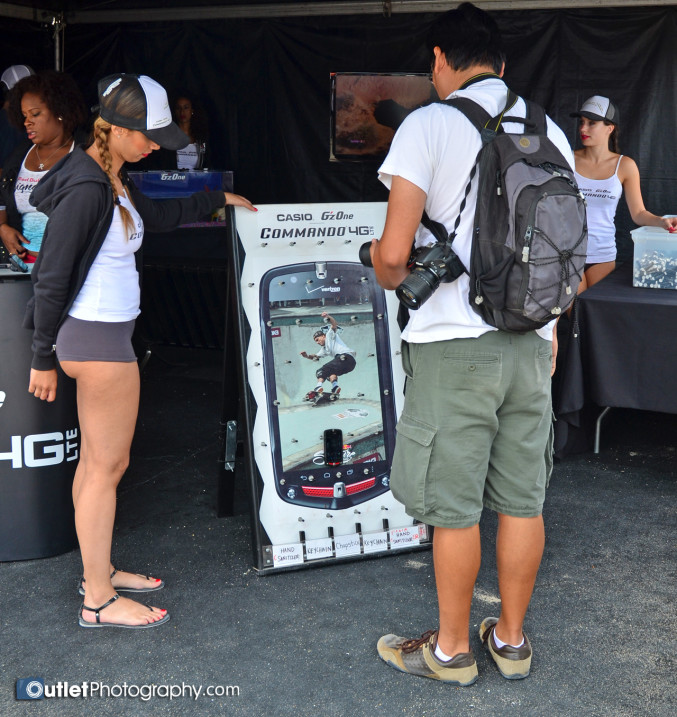 This Cracker Jack'D promo model was a hit at the event. Not only was she handing out free snacks, the cute smile and sexy bikini were an extra bonus!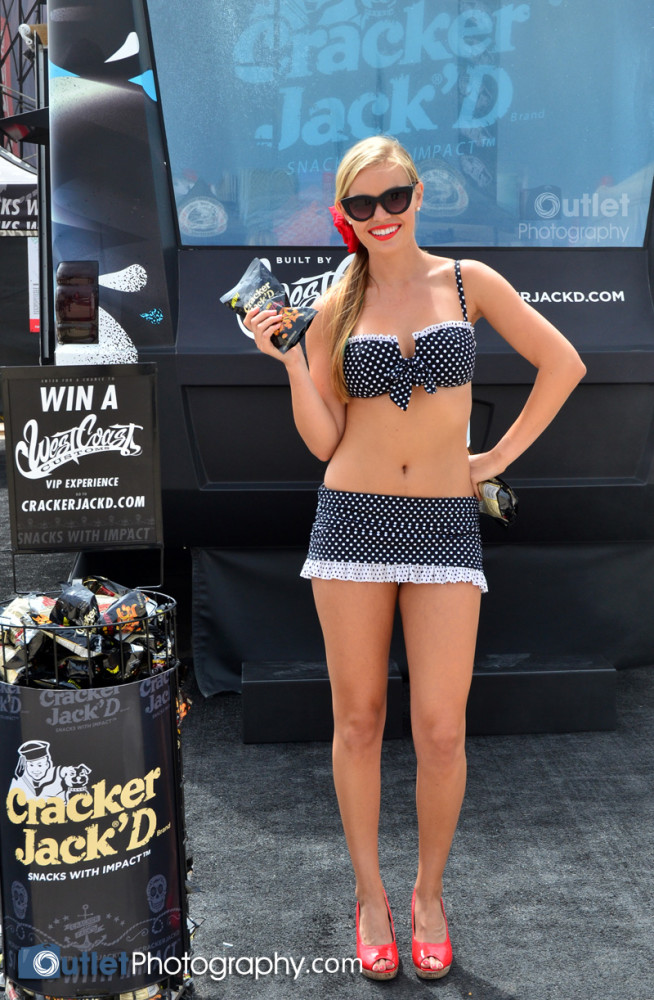 The Tilly's promo models where all over Main St., here's a group shoot with another promo team in green.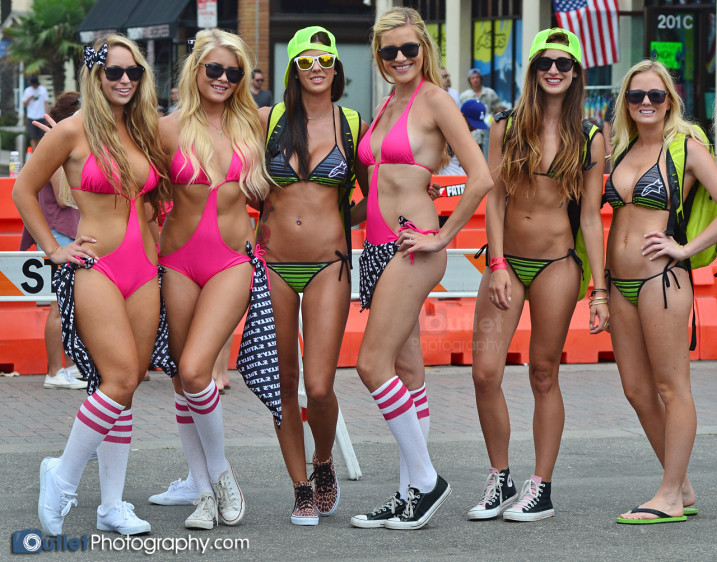 The event is so popular that there's a good chance you'll run into a few well known models. Here's Arianny Celeste and a few friends enjoying the competition during the week.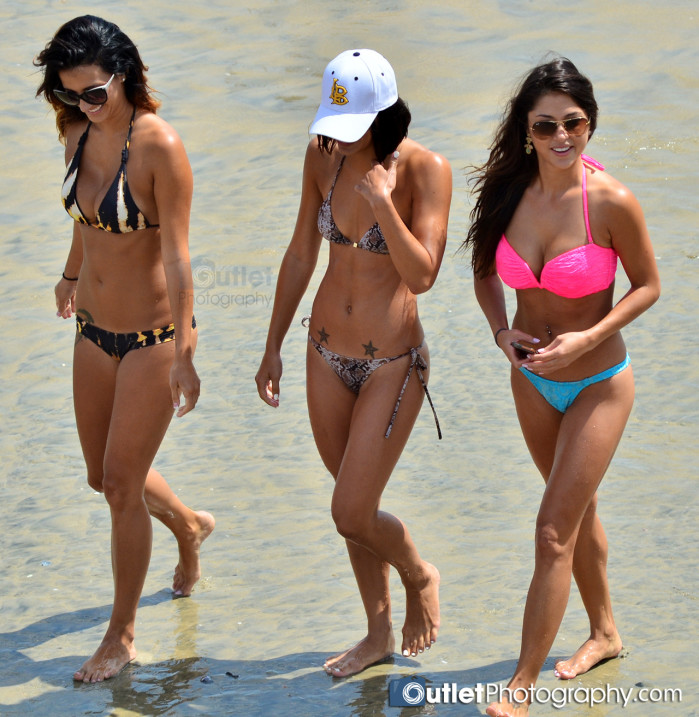 Or below, Francesca Aiello of Frankies Bikinis taking a few photos for her Instagram account.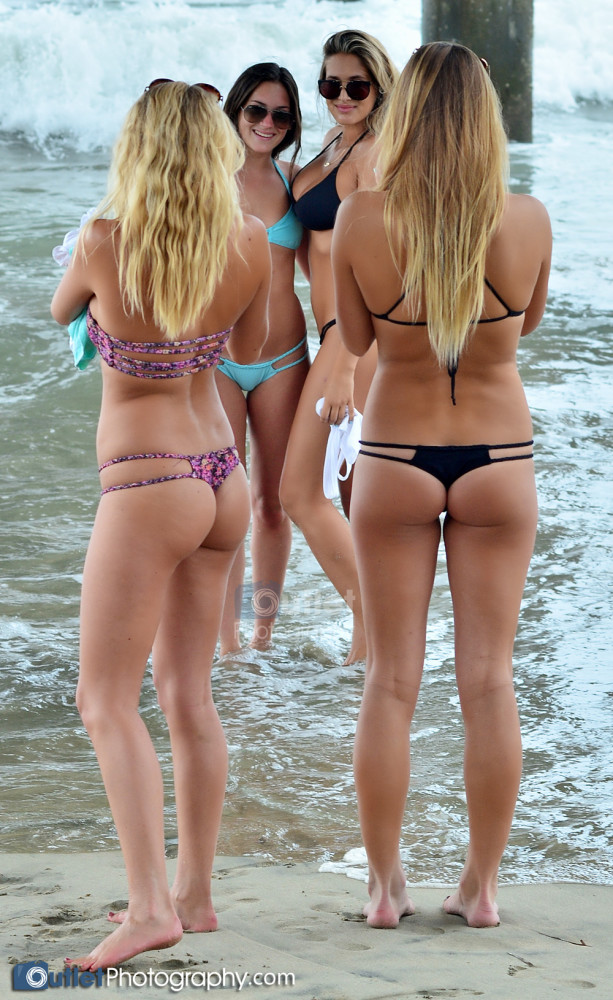 Under the pier seems to be the place many go to take photos. I captured a crew from bikini.com doing an impromptu photo shoot with a model wearing a top that read #beachesbelike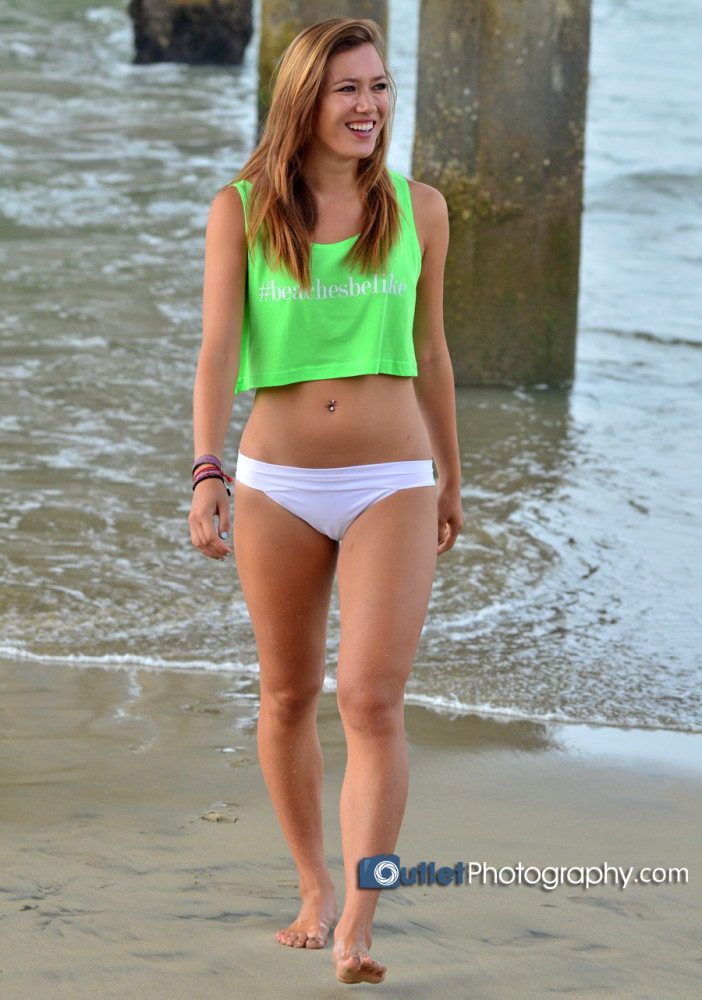 But one of the craziest things you'll see at the US Open of Surfing are all the writings on people's bodies. From "free hugs", "free kisses" to "tap this" or "slap this" with an arrow pointed down to their butts.
Yes, it's crazy and for most people it's a little too extreme. But each year it gets bigger and bigger. The organizers love it, but the locals hate it. Imagine the crowds? Not for one day but for an entire week!
Here's a little of what I'm talking about. Note that I didn't show the more extreme stuff that goes on in the festival area.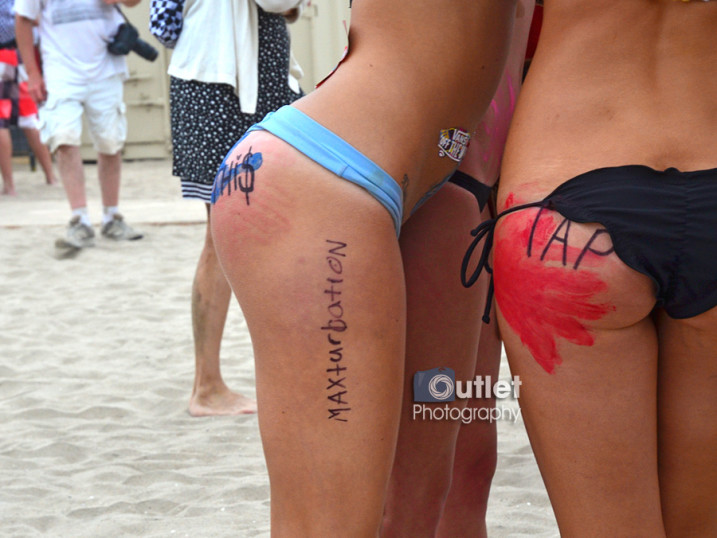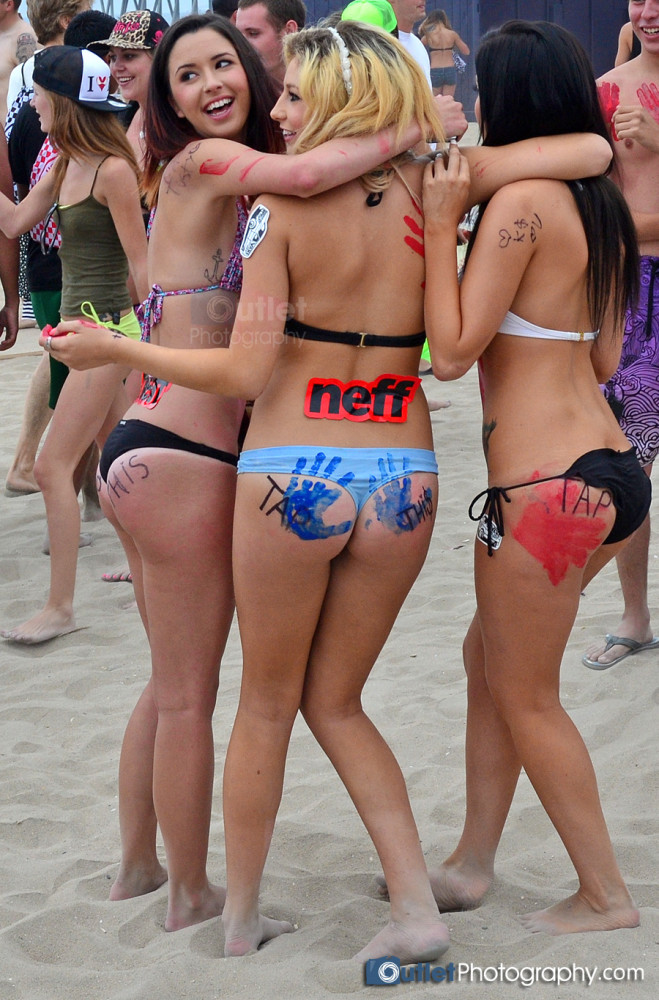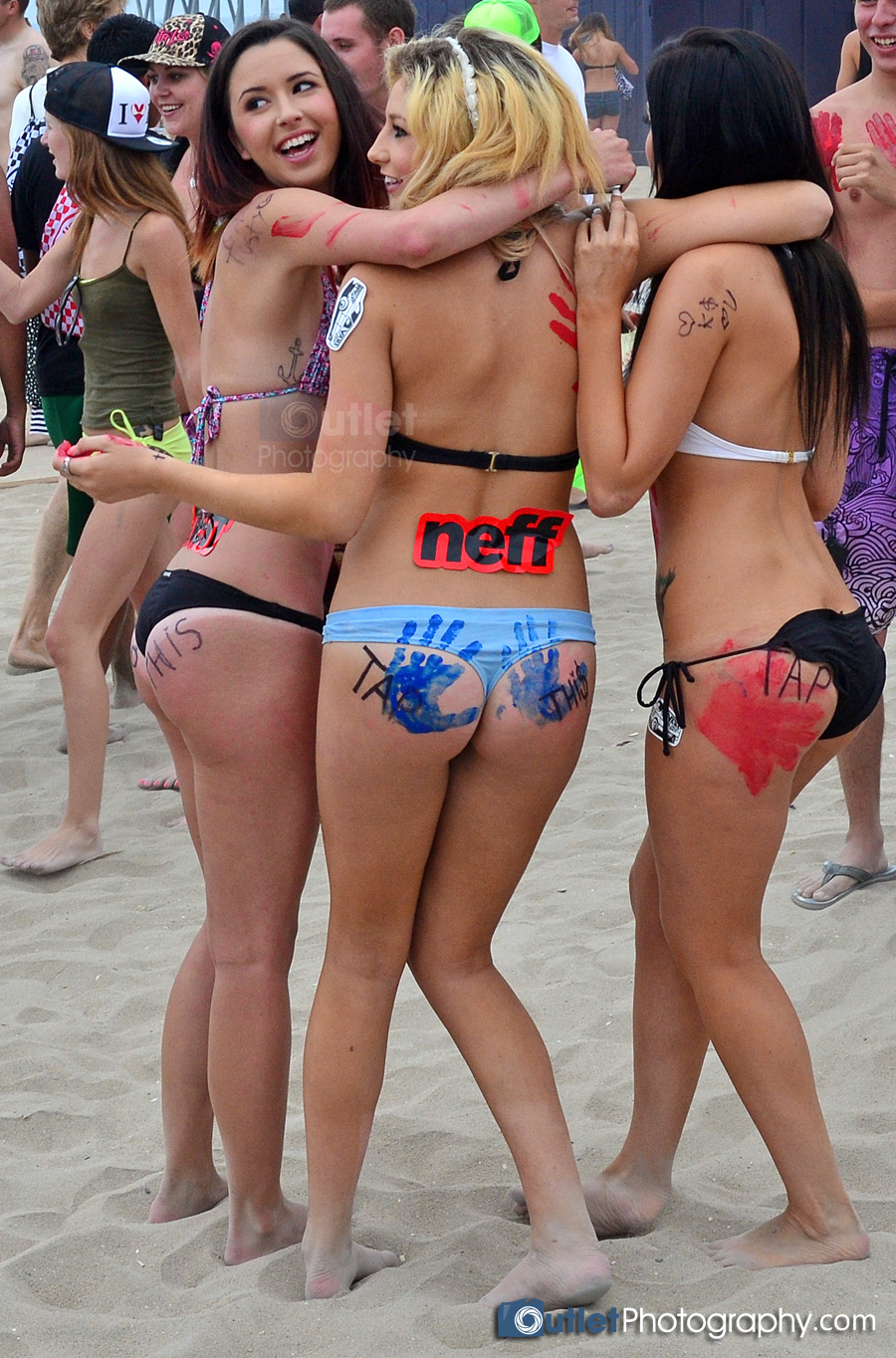 Finally, here's a few more to illustrate the large crowds and people of the US Open of Surfing.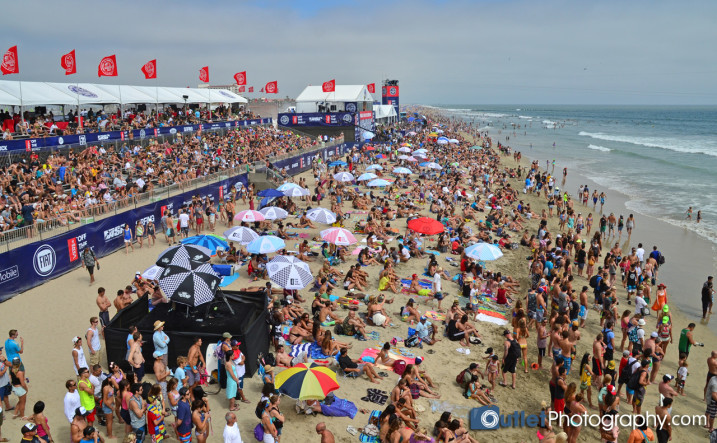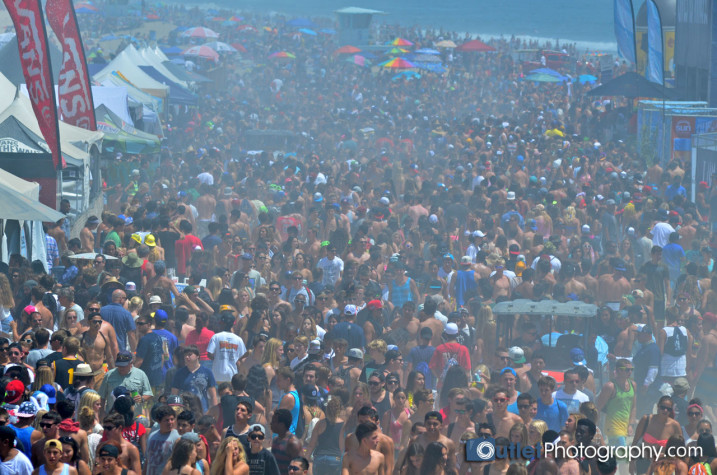 Don't miss my US Open of Surfing photos from previous years here: 2012 and 2011.