Sunset picture opportunity at the LA Observatory.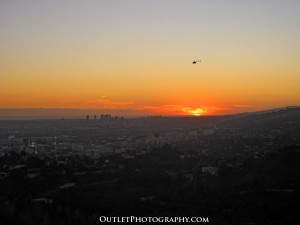 This weekend I headed over to the LA Griffith Observatory, the first clear day after a week long of rain in the area. The skies were clear and visibility seemed to be great. I think half the photographers in LA were also thinking the same thing, I must have counted at least 50+ people carrying tripods and photo equipment trying to capture the sunset and night lights of LA. But we were all a little sad to see a light haze come in as the sun started to set. The temperature dropped and the haze become worse.
We continued with our quest to catch the sunset and the LA city lights, but the setting sun didn't give the show we were all expecting. I took the picture on the left as it set over West LA/Santa Monica. Once it became dark, the city lights were nice but due to the haze/light fog, it wasn't the ideal night to take pictures.
Honestly I miss the warmer days. Even though we never get that cold or have temperatures lower than the upper 40's in the coldest of nights, the days are often very nice with 65+ degrees in the winter months and 70+ degrees the rest of the year.