Summer in Huntington beach is a photographers dream!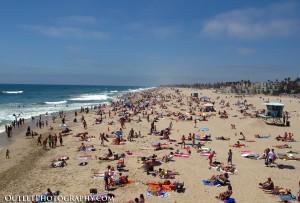 This past weekend, while this site was down due to problems with my hosting problem, I decided to get out and unwind at the beach. The skies were clear and temperatures were around 85F/29C. The beach was crowded with people, there was a professional volleyball tournament on one side of the pier and a body boarding contest further down the beach.
It was a perfect day for people watching or simply taking in the sites. It was a photographers dream, and there were many around, shooting the contestants of the contests and spectators. I noticed all types of photo equipment being used, but it seemed that a long zoom lens was pretty standard with the photographers. I can understand with all the bikini girls walking or laying around why someone would want a zoom lens, but to capture the overall feel of the beach you really need a wide angle lens.
The image shown above, illustrates how a wide angle view of the beach is more dramatic. I was able to show the beach, the sunbathers and the inland homes lined with palm trees. All of it seems to reach out in an upside down "V" into the horizon. Click on the image to see it in its full size. You'll see the variety of people and actions occurring, from the swimmers to the sunbathers. I love taking pictures like this, it tells so many stories.