Sekonic Flashmate L-308s Light Meter Deal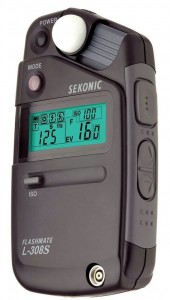 For more than five years the Sekonic Flashmate L-308s has been one of the best deals and most popular light meters in the market.
I purchased my light meter more than 6 years ago and it continues to work perfectly. It's easy to use, compact and accurate. Works with or without a flash cord (most now use Pocketwizard's, so no cord needed). And it's easily powered by an easy to find AA battery.
Plus the L-308s flash meter continues to increase in value. Although it's currently listed at 40% off its usual retail price, it's still higher than what I paid for it six years ago!
A good flash meter, like this one, should be seen as an investment rather than an expense. As I always say when it comes to photo equipment purchases, always try to buy the best you can afford, it will last longer and hold it's value longer.
Currently all three of the major online photo retailers are selling it at a reduced price, more than 44% off.  You can check the prices here:
Key features of the Sekonic Flashmate L-308s:
Currently the smallest digital flash-meter, measures 2.5″W x 4.3″H x 0.9″D (63mmW x 110mmH x 22mmD)
Reflective & incident light readings in ambient or electronic flash lighting conditions
Full, 1/2 and 1/3 selectable f/stop increments
1/10th of a stop increment displayed
Exposures accurate down to a tenth-of-a-stop for both ambient and electronic flash light readings in full-stop mode.
Cord or cordless flash measuring
@ ISO 100 ambient EV range is 0 to 19.9 & flash f/stops range from f/1.4 to f/90.9
Powered by one AA battery
Box includes a Lumidisc with pouch, soft case, strap, synchro terminal cap, AA battery.
Here is a picture of the items included in the box. Besides what you see below, it also includes the Operating Manual, warranty card and the
Quick Guide
, which is very useful.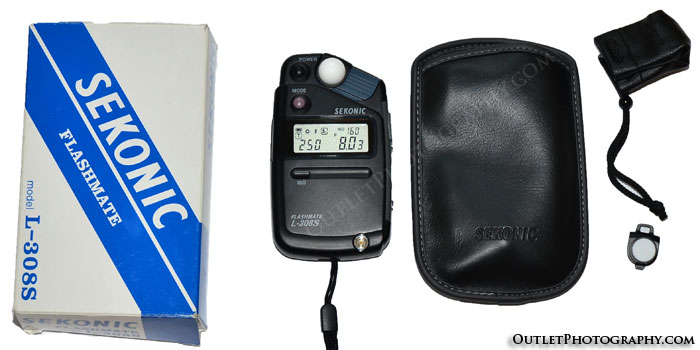 Sekonic L-308s instructional videos
Sekonic also makes it easy for you to use by providing easy to follow online videos. Here is the basic overview and setup of this light meter:
The rest of the video instruction series include:
The instruction videos are short and simple to follow. The best one is probably the "metering tricks", gives a little more insight on the features of the Sekonic L-308s.
Finally, this flash meter is the most popular and best deal in the market. Whether you shoot outdoors or indoors (in a studio setup), with strobes or not, as a photographer I can tell you that eventually you will need a light/flash meter. And in my opinion, for the price, this one provides the best deal.
You can find the Sekonic Flash Light Meter L-308s at: Amazon – Adorama – B&H