Repair Cost for Nikon 80-200mm F2.8D ED AF Cracked A-M Ring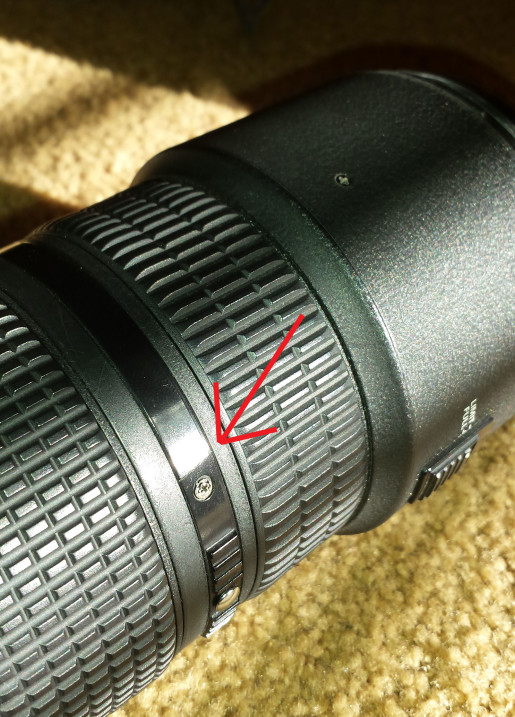 If you own a Nikon 80-200mm f/2.8D ED AF lens it's only a matter of time before the A-M ring develops a crack. I've owned one for over 15 years and the crack on my lens finally needed to get repaired. I'll explain what happened and how I had it fixed through the Nikon USA repair center. Plus I'll show you the actual repair estimate from Nikon to fix the cracked A-M ring on the 80-200 f/2.8D ED AF lens.
The cracked A-M ring issue is common to this otherwise fantastic lens. Personally I love this lens, I've owned one for over 15 years now so I won't go into that here (but you can read more about it in this older article). As for the crack, well mine developed about 5 years ago but since the lens is built like a tank, it continued to work without a problem. The lens always focused properly and quickly, but the crack, which you can see in the image shown above never fully detached.
For those not familiar with the A-M ring, it sits right in the center of the lens and is used to switch it from fully auto focus to manual focus. It has a silver colored button and is pressed then the ring can be shifted to A or M modes. The crack will always occur next to the screw that is closest to the silver button.



A few weeks ago, while I was out shooting, I noticed that the auto focus mechanism wasn't working properly and the A-M ring was stuck in the middle of the two modes, as I was trying to shift it back to the A, the ring (which is one of the few things in the lens that is plastic) opened up. The lens would not work normally anymore.
Living near the Nikon Repair center in the west coast, I decided to have them repair it rather than spend time looking elsewhere to fix. After dropping it off at their office, later that night I received the repair estimate, the total…$236.50 (including shipping back to me).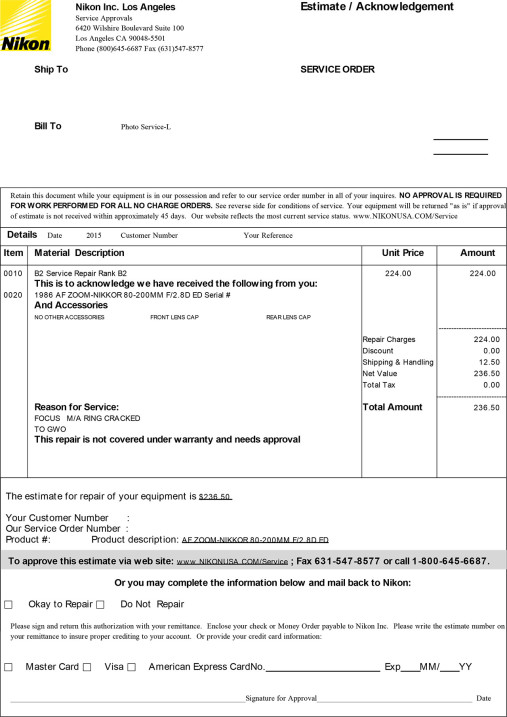 I must admit, at first I was really upset. But then I started to think just how little it was in regards to how much use I've had and will have with it in the years to come. I purchased this lens in the year 2000, yup that's 15 years ago! I recall spending about $1,100 for it new at Samy's Camera in Los Angeles. I've taken over 150,000 photos with it (minimum) over the years and it has never given me any problems. The way I see it, I could have sold it for a couple of hundred dollars for parts, or for the $236.50 I could get it back to almost new condition.
There was no question, I was going to have Nikon repair it. You can see the final approval estimate I received on the right (I removed my personal information of course).
The repair was done in less than 10 days and was back in my hands ready to take more awesome photos. Some may say I paid too much for the repair by going with Nikon, perhaps but because I have never spent one dime on repairs for this lens in 15 years. Spending a couple of hundred dollars simply didn't bother me.
In the past 15 years I've gone through countless SLR and DSLR bodies, dozens of photography accessories but when it comes to the Nikon 80-200mm f/2.8D ED AF lens, it has been my best purchase yet. Even with the cost of the A-M ring crack repair, it's the best bang for your buck. So if yours goes out, don't panic, get it fixed and go back to taking photos, you won't regret the purchase.