Promotional Models of the 2015 Toyota Grand Prix of Long Beach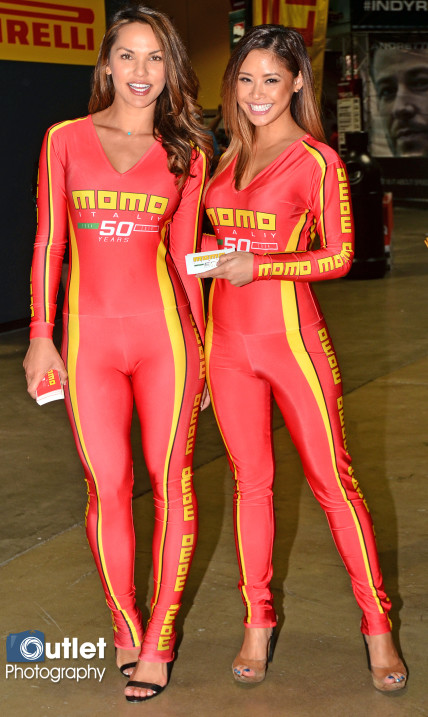 The 41 Annual Toyota Grand Prix of Long Beach is a wrap, like in previous years it was all about fast cars and beautiful promotional models. But I'll leave the photos of fast cars for another day, this article is all about hot promotional models. Oh and of course photography, this year I had a completely different setup for the event. I'll talk about the gear I used at the conclusion of this article.
MOMO GIRLS
The MOMO girls from MOMO Motorsports were out in full force. Playboy model Raquel Gibson's sister JC Gibson (@misscjgibson) and Sophia Le (@sophiale) were dressed in their signature red form fitting "umbrella girl" outfits, making them the talk of the convention center and pit row.
With so many people trying to take photos with them, it was a challenge getting a photo by themselves. But like a real trooper, I managed to quickly take this photo, on the right, without the usual crowds surrounding them.
JC Gibson was the most adventurous one. She hopped on a three wheeled tricycle and started to ride around the convention center. Yup, spectators, including myself, had to move out of the way and let this hot babe through. She was on a mission and no one was going to stop her.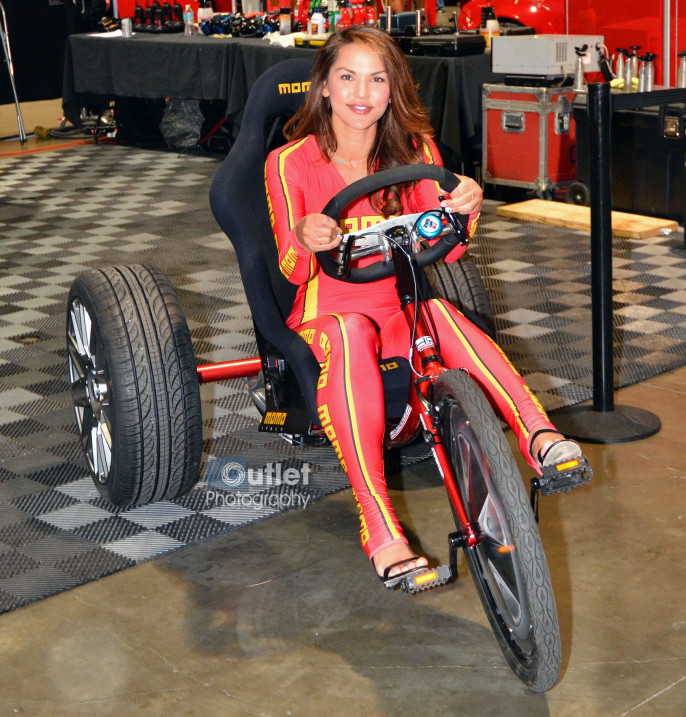 On Saturday and Sunday there were three MOMO girls representing MOMO Motorsports, but this is when I realized I chose the wrong profession. Why you ask? Well, there's something about firemen that seems to attract all things in red, including the MOMO girls!
On Sunday it seemed every time we walked by a firetruck outside the convention center, who did we see? Yup, the three hot promotional models from MOMO. Too funny, but I understand. I'm sure they were more interesting than the huge crowds inside the convention center!

Constance Nunes – Nikki Howard
Two top promotional models are Constance Nunes and Nikki Howard representing Toyo Tires. These are very popular models, Nikki Howard has over 124K follows on Instagram and Constance has over 45K followers. It was difficult to find a gap where fans were not lined up to get signed posters or take photos with them, but of course they made time for us. Here's a few gems: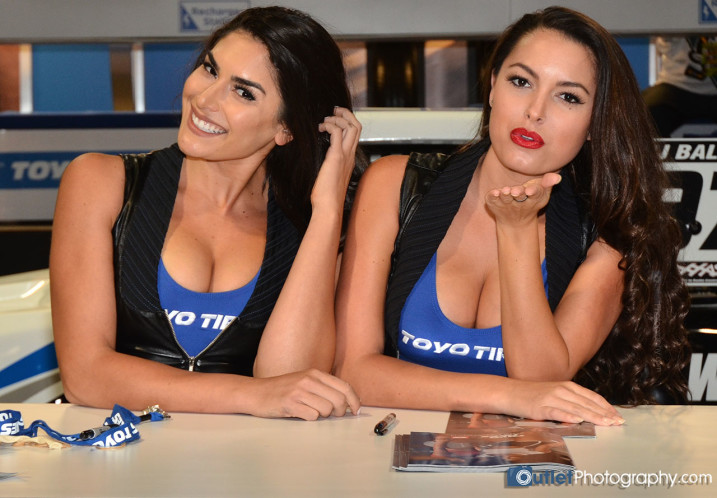 You know what they say…good things come in pairs! Oh wait, who said that? OutletPhotography did!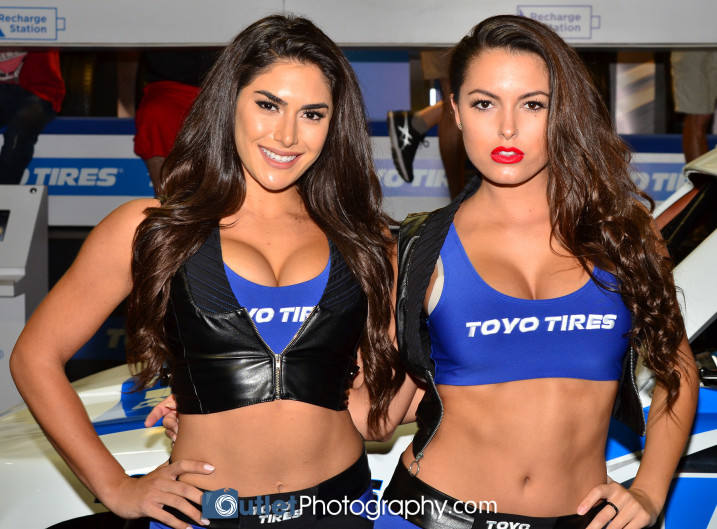 I also posted a short video clip on our Instagram account for your viewing pleasure:
Tecate Light Promotional Models
One of the highlights of the Toyota Grand Prix of Long Beach (besides the racing) are the beautiful Tecate Light promotional models. Year after year a few popular models return, like Claudia Moran, Brina Chantall and Erika Cavazos as well as others.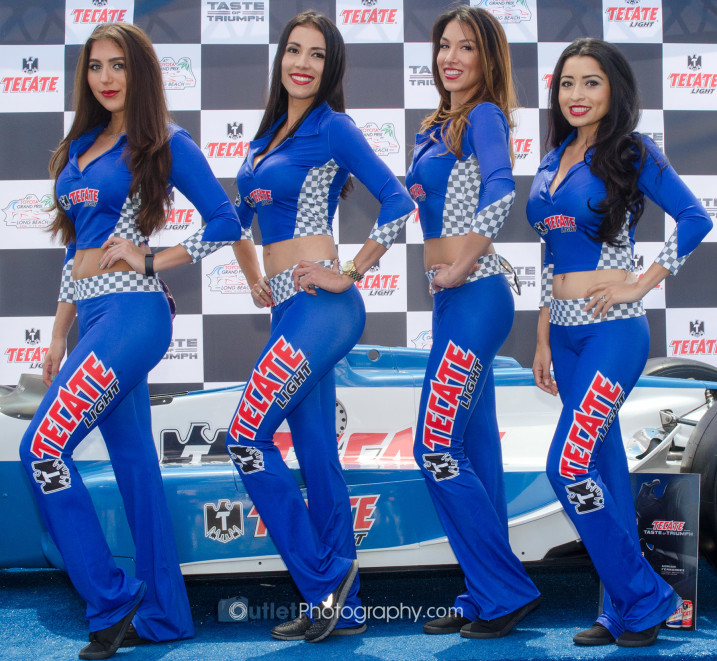 I couldn't get all the names of the models, but I do know that on the far left it's Erika Cavazos and second from left it's Luxia Herrera. If you know the name of the second two, please leave a comment at the end of the article.
Here's a couple of closeups, these women have excellent facial features and look so classy up close. Below is Brina Chantal Moreno, a real cutie that really knows how to wear a pair of glasses. The funny thing is that last year I took a similar photo of her.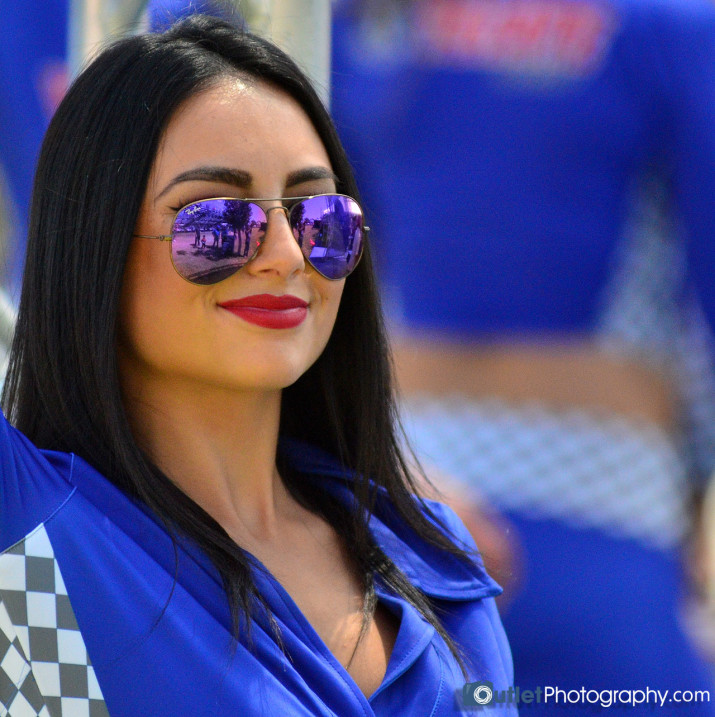 Below is the Tecate Light model veteran of the Long Beach Grand Prix, Claudia Moran. She's a really nice person and a pleasure to photograph, a real beauty!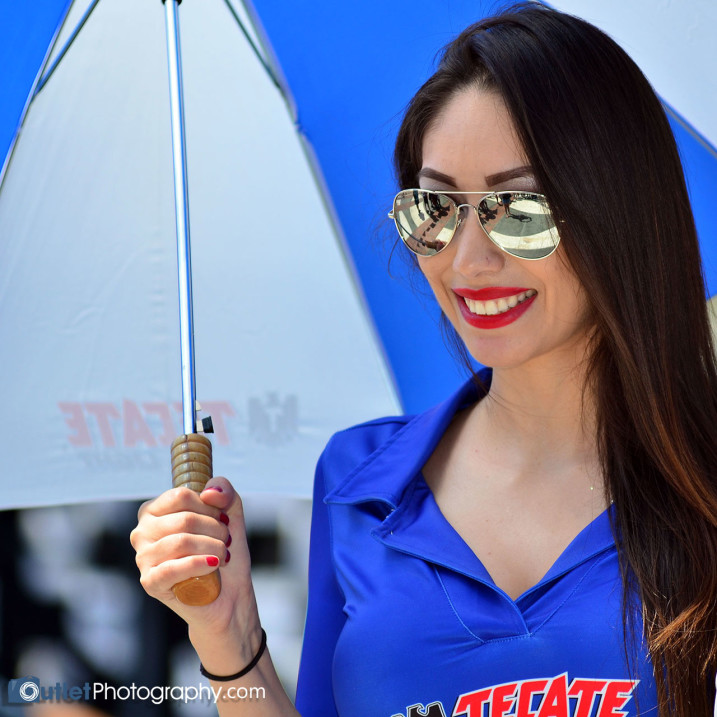 And of course we can't forget these two cuties, Sharon Gomez and Paulina Borrero. Probably two of the nicest Tecate models we met.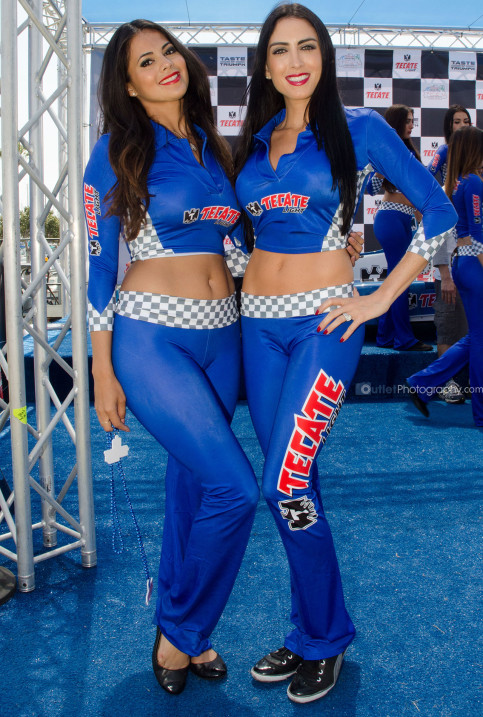 Continental Tire Girls
Next up are the Continental Tire Girls with Ashley Twomey, Arley Elizabeth and Christina Riordan below.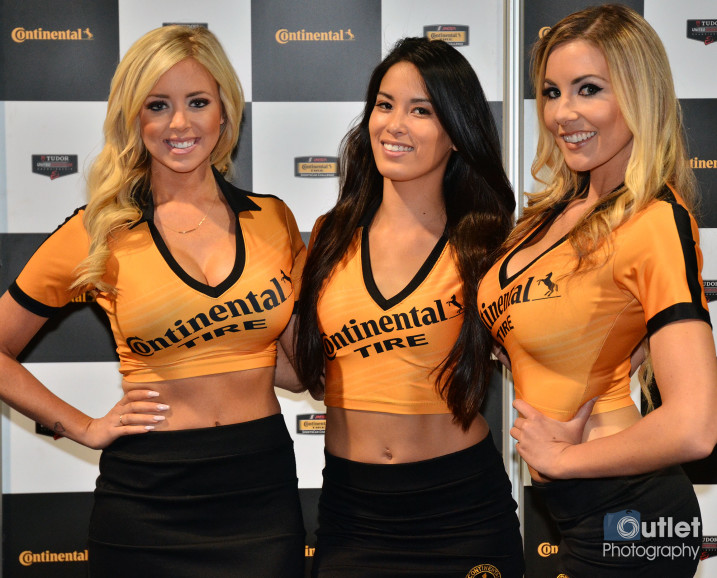 K1-Speed Girls
Laura Baker on the left and Susan on the right have been the K1-Speed spokesmodels for as long as I can remember. Both are always cheerful and fun to hang out with, if only for a short time. Their warm smiles are perfect for snapping a cute photo.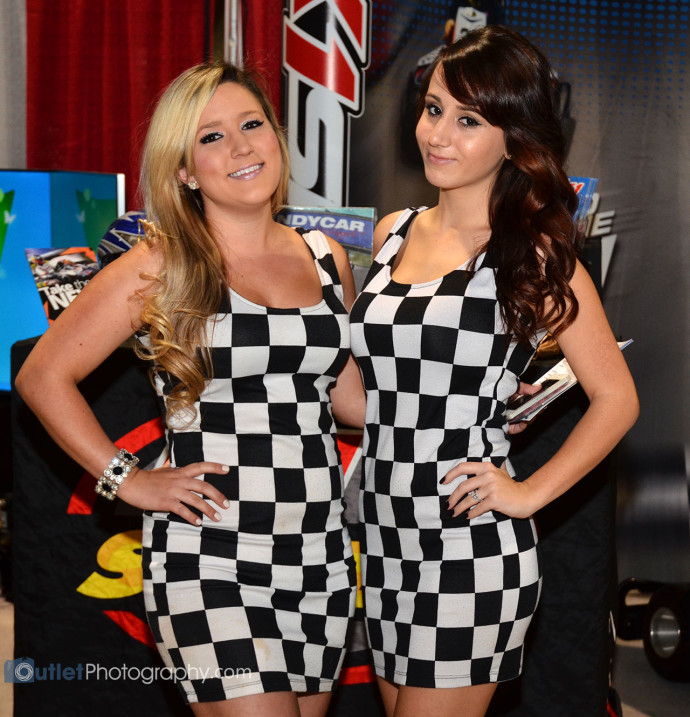 Traxxas Girls
The Traxxas exhibit was really cool, they had remote control cars flying all over the place, yup, ramps were set up to make those suckers fly!
Plus the Traxxas girls were there to make everything extra special for the spectators. With Amber Papst and the rest of the team, it was one of the more popular booths at the Long Beach Convention Center.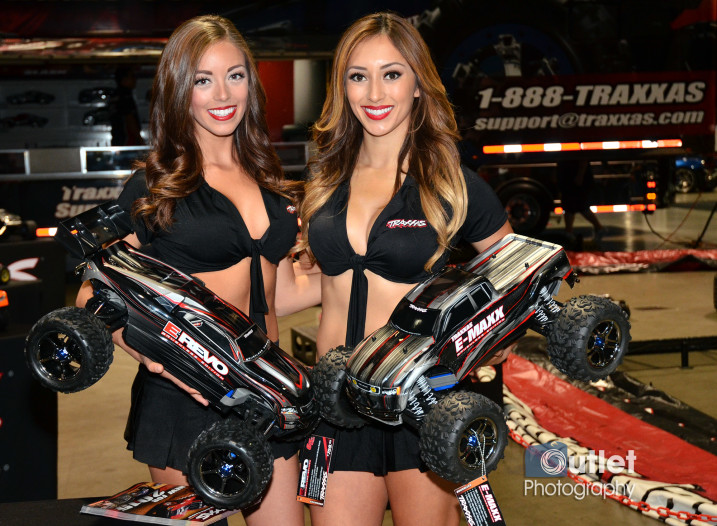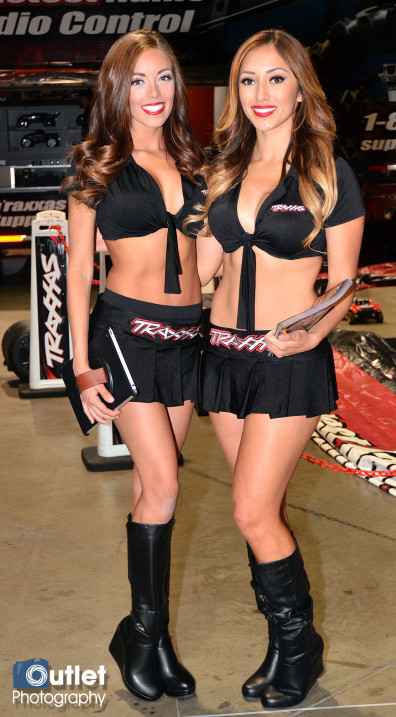 More Promo Models
Below are the promotional models that I only captured a few pictures of, so it didn't warrant it's own section. But one of the standouts was Missy Olivares who was representing Sonoma Raceway.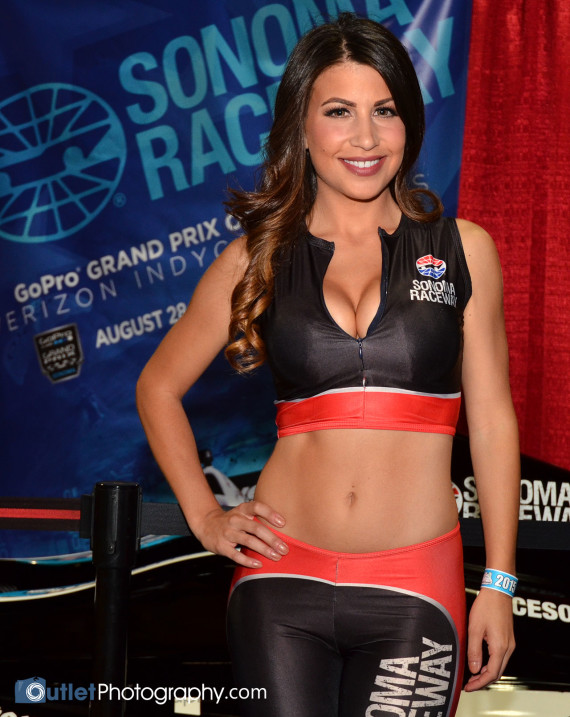 Below are just a few random photos of other cute promotional models. On the left are the Cooper Tire girls and the two right photos were from a booth calling itself Football Energy Drink.
Conclusion
Finally, as I mentioned at the start of the article, this year I had a completely different camera/photo setup for this event. Normally I carry one camera body with two lenses and a flash. This time I changed it a bit.
First change consisted of taking two camera bodies. I had a Nikon D7000 and a Nikon D7100. Second, I purchased the CapturePro and ProPad from PeakDesign. This enabled me to have one DSLR on my left hip with a short wide angle zoom for my indoor shots. Third, I purchased the Black Rapid RS-7 Strap, which allowed me to carry the second camera with my larger Nikon 80-200mm 2.8 lens, I mostly used this for my outdoor photos.
I know why use two different systems, Peak Design and Black Rapid? Well, the black rapid strap works perfectly with DSLR that have a heavy or light lens, but the Peak Design Capture Pro clip works really well with small lenses and if you don't want to have a strap attached. It really free's you up and makes me feel like I'm working in a studio.
This setup was perfect for me and allowed me to walk around for hours at a time carrying the equipment I needed and it being easily accessible. One more thing, I also carried a Nikon SB flash on a separate pouch on my belt next to the pro clip. So I was ready for any situation.
Well, that pretty much does it. It was a fun weekend, if you like the photos please leave a comment or share this page on your social media sites. Don't forget to follow us on Instagram: OutletPhotography  Also, if you'd like to support us, please consider using some of the links above to purchase the photo equipment I mentioned. It doesn't cost you anything extra, but we do get a little money from the sponsors that enable us to continue to update this website. Thanks again!