Photos of the 2010 Los Angeles Auto Show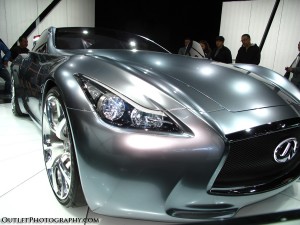 UPDATE: You can see the newest LA Auto Show Girls and Cars Gallery HERE.
I spent several hours today at the Los Angeles Auto Show. Although I am still feeling a little under the weather, I decided to take the long drive and take on the crowds at the LA Convention center. With so many people you would have thought they were giving away cars, but not so, I asked. 🙂 The only free cars given away were a few Hot Wheels at the Chevrolet area.
Car shows are great places to photograph concept cars…if you go midweek when the place is empty! But not on a Saturday afternoon! There were so many people it was very difficult to maneuver the type of pictures I wanted to take.
I spoke to a few of the promotional ladies about several cars, but for the most part, they ignored me. 🙁 I like to think it was because they were busy speaking to the crowd about a featured car. One beautiful woman flaunted her giant engagement ring, that's when I knew she was getting the wrong message, I was interested in the cars not her!
When possible, I managed to take several pictures. For example this Rolls-Royce Ghost, nice!