Photography & Permits On US and California Public Land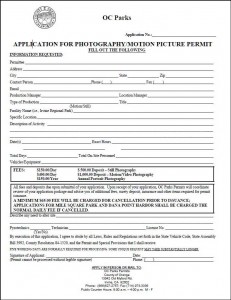 Knowing about photography permits to shoot at local beaches or US and California lands may not mean much to  you, but in truth anyone using a DSLR should have some knowledge to avoid getting a $1,000 citation!
Once again I read of a photographer who received a $1,000+ citation for shooting at a local beach. Apparently this photographer shot at Crystal Cove State Beach in Laguna Beach with no problems, he then returned a second time with a model to shoot at the same location. This time the park ranger stopped him before he even began.
Because he didn't have insurance or a permit from the California State Park, he was cited and now has to pay over $1000.
Knowing when you need a permit will depend on where you shoot. The large format photography site has great information on its Photo-Permit page. I highly suggest everyone read it.
But in summary, just know that in most US and California Public Lands you may be asked for a permit if (any apply below):
The photos will be used for commercial use.
You will need special accommodation from the park.
You require assistants (an entourage) for your shoot.
You appear to be a professional photographer based on your camera equipment.
Yup, that last one is a catch all. What that means is that even though you may not be a professional photographer a park ranger/official may ask to see your permit. Of course that does not mean he/she will give you a citation as long you are not taking them for profit. But that alone lies on the decision of the park ranger.
So what does all this mean? How does a photographer who is out on his own with "professional" equipment not get cited without a permit? Well, as long as you don't have a large entourage, or models you'll probably be ok. However, it's probably best to "not stand" out.
My personal experience has been that it depends on the park ranger or person in charge. I've been at places and told  I can't shoot without a permit, so I leave. In one instance the park ranger said we were not allowed to shoot with "professional" equipment (this was a historical state park) but because it was during the week and park attendance was low he was not going to fine me, just gave me a warning.
Because it all comes down to the park rangers or people in charge of the areas, it's best to play it safe. Get a permit if its for commercial use. If it's not for commercial use, then keep a low profile and follow all the rules.