One Year and over 20K Pictures Taken With My Nikon D7000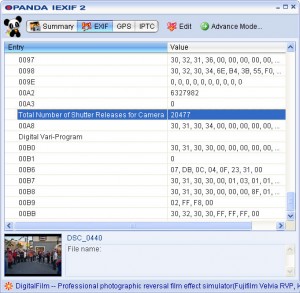 It's been a year since I purchased my Nikon D7000. Today I checked the camera's actuation's (shutter releases) and to my surprise I had taken over 20,000 pictures!
The exact number as you can see from the Opanda IEXIF viewer was 20,477. I rarely check this number except for once a year, more of curiosity than anything else.
So far I've been very happy with my D7000. At the rate I'm taking pictures, this camera should last me at least another five years.
I've taken some great day & night photos with the Nikon D7000. And who can forget the identical image a newspaper photographer and I captured during a surfing contest.
I'm sure some will say that 20K pictures in one year is way too many, especially someone like me who is not a full time working professional photographer. Yes, I make money taking pictures. In fact, my D7000 has paid for itself several time over this year.
In fact, a few days after purchasing the camera, I took a night photo showing the holiday lights in a plaza. A local bank in my area purchased the image to include in its 2012 calendar. So within a week of receiving it, my D7000 had already cut it's cost in half. This is one of many ways I make money taking pictures.
You can check the # of shutter actuation's (shutter releases) on Photoshop or use one of these free online tools: Opanda has a free trial or KUSO, it's totally free, however there doesn't seem to be any support for it anymore, but the program is still available online.
How many pictures have you taken this past year?