Nikon D800 tops Amazon's Best Selling Digital SLR Camera List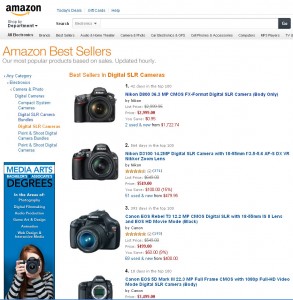 As of this posting, the Nikon D800 is the current top selling digital SLR on Amazon.
It's a little surprising to me, not because the D800 isn't a great camera, but because Amazon's top selling DSLR's are usually entry level camera's under $1K.
To see a $3K camera at the number one spot indicates that many D700 and non D700 owners have and/or are upgrading. Looks like both full frame and dx owners are flocking to this camera.
Plus, they are doing it early rather than waiting 6 or 9 months down the line. I think we've all learned in the last several new camera's launches, that waiting usually means paying more for a camera. That is unless one waits years, then yes you'll get if for less. But waiting a few months, means paying a little extra.
Here's a few tips on how I never overpay for new cameras and/or lenses.
I never buy a new camera on eBay. It's really not new anymore, it's used. I buy only used and/or hard to find unique items on eBay.
I avoid Craigslist for buying new photo equipment.
I only pay with a credit card and use online trusted sites such as Amazon. This will give me several options for returns and/or fraud protection from my credit card.
If there is a re-stocking fee for returns, I walk away, actually I run. Some major stores like Best Buy have a re-stocking fee on some electronics, ask before you buy.
For new camera bodies and lenses I always pay the lowest price, which can only be found online at Amazon, Adorama or B&H. Sorry, but the last time I purchased a new lens from a brick and mortar store was 12 years ago and I paid about 15% more than if I would have purchased it online. I learned my lesson then and would never do it again.
I do a lot of online research on prices. It's one of the reasons I created my Nikon Buying Guide, it's actually more for me than anything else. There I can quickly check which online store has the lowest price on a particular product. (I'm currently working on the Canon version).
I'm sure it's not new to most of you, but that is how I shop for camera gear. It's worked for me very well in the last 10 years.