Nikon D800 giveaway on Facebook signals camera delivery date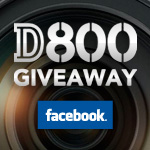 Apparently local US camera shops are getting the new D800 sometime next week. I say this because Pictureline, which I mentioned earlier has a D800 giveaway on Facebook has moved the end of the contest from April to next Friday, March 23, 2012.
Apparently they are getting the D800 earlier than expected. If Pictureline, which is not one of the larger online camera shops in the U.S. are getting them next week, I suspect its a fair assumption that Amazon, B&H or Adorama will too.
By the way, Pictureline's D800 giveaway on Facebook is only open to U.S. residents. And I am not associated with Pictureline or this giveaway, sorry. I know last time I posted the link a few of readers pointed out the U.S. resident part, and not being able to participate. If I find more online giveaways in other countries, I'll be sure to post them here.