Nikon D800 Available at Best Buy Right Now – Online Only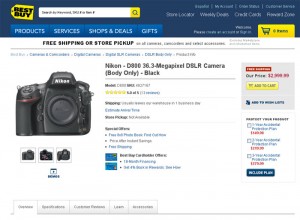 The Nikon D800 is in stock right now at Best Buy
.
It's available on it's website only and cannot be picked up at the store, but it currently says that it will ship from their warehouse in 1 business day!
Wow, just as I had posted yesterday about the long wait and the demand about the D800, it seems that the backlog is finally starting to diminish. I suspect in the next days and weeks, many of the other dealers will start to have plenty of the D800.
This is great news if you are one of the few that have waited on the sideline. Those who have, I know what you're probably wondering, "when will the D800 deals or rebates start to come?". Well, it's still a little to early for that, I'd say you'd be waiting until next year, at best.