Nikon D7100 Photos and Specs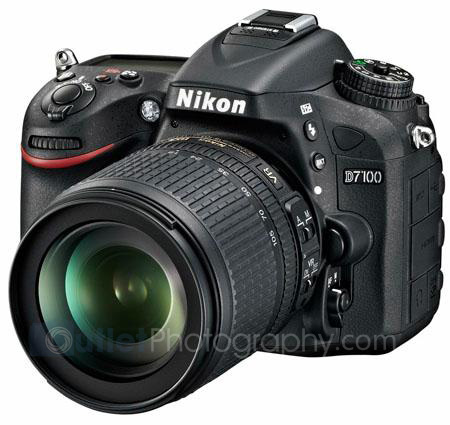 Well it's here, the new Nikon D7100. Yes, this is the actual camera.
Earlier today the full specs were leaked so there weren't any surprises. Actually, NikonRumors let us know several weeks ago.
Kit & Body Only Price
$1199.95 For the body only
$1599.95 For kit with the 18-105mm f/3.5-5.6 VR
When will the D7100 be available? You can pre-order them now.
Body only
Kit with 18-105mm f/3.5-5.6 VR  Lens
When will it be in stock? The target release date is: March 21, 2013.
As for your local camera shops, the usual time (about a month or so), maybe less this time around if Nikon has done their homework.
New D7100 Specs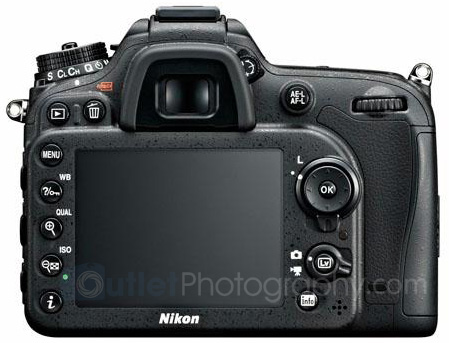 Here's a few highlights:
24.1-megapixel DX-format image sensor
No optical low pass filter (OLPF)
ISO 100 and up to ISO 6400
6 frames per second continuously for up to 100 shots
Compatible with the WU-1a Wireless Mobile Adapter
1080p Video at 60i/50i/30/25/24 fps or 720p at up to 60p
Built-in HDR (High Dynamic Range)
New 3.2-inch ultra-high-resolution 1,229K-dot LCD monitor
New viewfinder with a low-power consumption OLED display element
Magnesium alloy with moisture and dust resistance
Upgrade or Not?
The question to upgrade to the D7100 is more a matter of choice and need. If you need 60p for 720p video or absolutely need 24mp images and want to stay with a small DX Nikon body, then it's a no brainer. You upgrade. But if these two issues are not important then I don't know why the extra expense is warranted.
However, if you're upgrading from a lower model Nikon. Lets say from a D5100, then here's where the real fun begins. You're in the best position! The choice to choose from the new D7100 or from the lower price (and dropping) D7000! The price of used D7000 on ebay will surely drop in the next few weeks.
Nikon D7100 Camera Image Gallery