Nikon D7000 EN-EL15 Battery life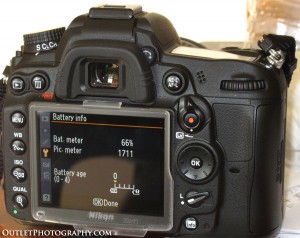 This morning while looking at my Nikon D7000
battery info screen, I realize I mistakenly stated in my previous post that the battery life was at 60%, it's actually 66%. However the "pic meter" is at 1711, not the 1000 I stated! Wow, can you imagine the long life this new EN-EL15 battery has? At this rate, I'll be able to shoot over 3000 photos in one charge!
I must admit that about 30% of those images were taken at a fast shutter speed. Considering the lenses I used don't have an internal motor and so the D7000 needs to use its own power to work the focus for the lenses, (Correction: thanks to the reader who caught my bad choice of words! What I meant was that the battery was powering the internal in-camera motor to focus the lens, and to me that meant using more power. Which I know some may say is the same as powering the motor in the lens itself. Either way, I was incorrect and thanks for catching it!). Needless to say, Nikon made a good choice in upgrading the battery for this new camera. More power, longer life, means I can spend more time out shooting and less time worrying if I have to "recharge"! I plan to buy a second one as a backup, especially for trips, this way there is no need to bring along the charger or at least worry about charging it on the go.
If you're not getting the long life out of your EN-EL15 battery, try doing the following, it seemed to work for me. When I first charged the battery, I did so as the instructions stated, I let it charge until the charger said it was full. Then I used the camera and let it run down until it was about 20-25%. During this first set, I didn't get too many pictures out of it, I'd say I was only able to take about 400-500 pictures. But then I fully charged it again. I noticed that this time it took about twice as long to charge. From this second charge I was able to get about 1000 pictures before I was down to 30% on the battery meter. Again, charging it for the 3rd time seemed to take a little longer, which is where I'm at now with 66% battery left and over 1711 images taken. Not bad eh?
Also, I just noticed that amazon currently has the Nikon D7000 kit available, I know it's still difficult to find. As for the body only version, seems it's taking Nikon a little longer to fill those orders.
See the latest version of Nikon Cameras at out Nikon Buying Guide page.