Nikon D4 now available for rental at Borrowlenses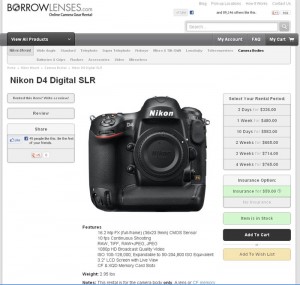 The Nikon D4 is now available for rental at Borrowlenses.com. Looks like the D4 has finally started to ship in the US?
Either way, it's there if you want to get in line and take it for a test drive for a few days. A three day rental will run you just under $400 and a 7 day rental will set you back about $540 (includes insurance).
On the Nikon side we've had an interesting couple of months with both the D4 and the D800 launching just a month or so apart. I know many of those that pre-ordered their D4's have been waiting patiently for it in the mail.
This update by Borrowlenses indicates it's likely those shipments of pre-orders from other online retailers will happen sooner rather than later.
While you're at it, why not rent it along with the Nikon 400mm f/2.8G ED VR II! That should make for a cool combination, take great pictures and make some head turns at the same time. Or just buy the lens and be the king of of your photo group! 😉
Finally, also updated the Nikon Buying Guide with the correct link to the D4 rental. Plus several times a week I update that page with any updates.