Nikon D4 Now Available at Adorama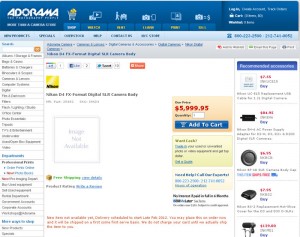 The Nikon D4 is now available at Adorama for pre-orders. Get it now, if you plan to get it. I expect these to go fast!
The demand for the Nikon D4 is huge right now. Last night I post the Nikon D4 availability list of places to pre-order. Amazon had it listed and within 30 minutes they were sold out.
Just like the D7000 last year, but even more this time, the D4 will sell out on most presales.
For a full list of places you can purchase and pre-order the Nikon D4, take a look at my D4 availability article from last night.
And for all the rest of us who don't plan on buying the Nikon D4, well we'll just admire the frenzy!