Next time you fall asleep at the park you might want to roll over!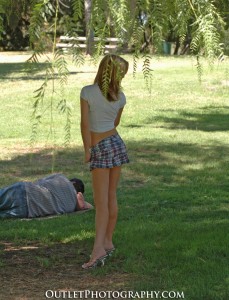 I've always said, go out and take pictures, you never know what you will capture!
While out shooting, I noticed a photoshoot taking place right next to someone asleep on the grass.
For at least 20 minutes or so they used that area and not once did the man wake up and see what was happening behind him. He would move and adjust his position but kept sleeping like a log. From this angle, you can clearly see how close she was to the man.
I wonder what the man was dreaming of, perhaps winning the lottery? Taking a cruise in the Caribbean? Whatever it was, I'm sure if he knew what was going on he would be kicking himself for not waking up!