My Photography Goals for 2012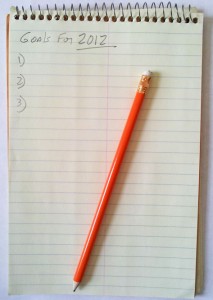 It's a new year and time to set a few goals, in my case photography goals for 2012. Both for me personally and this website!
I don't make new year's resolutions but having goals are always great for moving forward. This time I put them all in a little short video.
It includes:
Changes to the site
Additions to the site
And ways you can participate directly with the growth of OutletPhotography.com
So if you have a few minutes, take a look at it below. I'd like to know your feedback. Especially on photography goals you might have.
This year, one of my goals is to learn more about the readers. So if you leave me feedback, you'll be helping me achieve this goal!
I'd especially like to know the goals of other photographers. What are you looking forward to this new year? What most excites you about photography in the coming months?