My Nikon D7000 arrived! – first impressions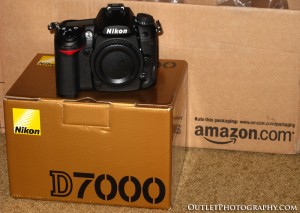 My Nikon D7000 body arrived yesterday from Amazon. I'm still playing around with it, but here are my first impressions. First, I love the feel of the camera. It's solid like the D300s, only a bit smaller, but not much. The weight is just how I like it, heavy enough that I can use a large lens and not feel like I have a toy attached to my lenses. Yet light enough to use as an everyday camera.
The plastic/rubber material used seems tough and better quality than some of their past models. Holding the camera with my right hand places many of the camera features within easy reach of my fingers. I've played around a little with the video function/live view. One obvious upgrade is the new 1080 HD function and the various settings associated with it. Nice! 🙂 As for the continuous auto focusing while shooting video, expect the camera to record the lens noise as is focuses if the subject moves or you pan around. Plus, I tried it with a couple of lenses, (AF-S as required), it seems to hunt a little but I may not be doing it right, still need to test out that part of it's features.
Nikon D7000 dead/stuck pixels? So far I haven't seen any on the video and I've taken a few at different settings. Not to say it's free from what many others have experienced. But I'm not purposefully looking for them, I like testing my camera by taking pictures of what I normally shoot then see if there are any problems. In the next couple of weeks I'll be doing just that.
I'll have more of my D7000 later. But I've had a few people asking why this camera has been so difficult to find online. For that, all I can say is do what I did. I didn't buy it from eBay, Best Buy or even my local camera shop with is Samys.com, why? Because all these places are reselling returned products and selling them as new. Ebay is full of 3rd party sellers trying to make a profit by selling a product that IS available for less at Amazon. Best Buy is full of returns from people who panicked about dead/stuck pixels that if you buy from them, it's very likely it's a returned product. And why didn't I buy from my local camera shop Samys.com? Because I noticed that whenever Amazon ran out of the D7000 Kit or body only item, they would list it on the Amazon marketplace for $100 more than the suggested retail price set by Nikon. Yet, when you went to their website it was showing as "out of stock". So even legitimate camera shops were creating this inflated demand and not selling the products at the price they were intended.
All this is creating this "fake" low supply. So all of us now have to search for the legitimate sellers and order when they have them available. This is why I purchased my D7000 from Amazon last week and patiently waited.