My Case Logic SLRC-206 Camera Laptop Backpack
I recently purchased a new Case Logic SLRC-206 camera (and laptop) backpack.  A trip to Maui was the reason for the purchase and it worked out perfectly!
Normally on a trip I carry my equipment in a Pelican hard case, but this time I needed something more versatile. Something that would allow me to easily and quickly get to my equipment and laptop but still be able to provide some of the security that a hard case can provide.
Oh, and it needed to be big enough to carry most of my equipment but small enough to be a "carry on" luggage on a plane.
After days of searching online and at camera shops I finally found it. The Case Logic SLRC-206 camera/laptop backpack. I'm so glad I got this one and the price was even better.
First let me start off by showing you my new backpack:
My Four Reasons To Love This Camera Backpack
Besides being able to carry along my 15″ laptop, the four main reason I love this bag are:
The ability to quickly access the camera on the top side. The "hammock" suspension sling works great. It's an easy in and out. Love it!
The interior color, the bright yellow/orange color makes it easy to find my equipment, everything stands out perfectly. Again, allowing me to find things quickly.
The bottom rubber/plastic waterproof base. In my trip to Maui, I was able to put it down on the sand or wet dirt with no worries about the water or moisture getting in from the bottom.
The price. I was able to get it for $74. The original price is $120 and even at that price it's very much worth the money.
What Fits Inside a Case Logic SLRC-206 BackPack
Take a look at what I had inside the backpack during my trip.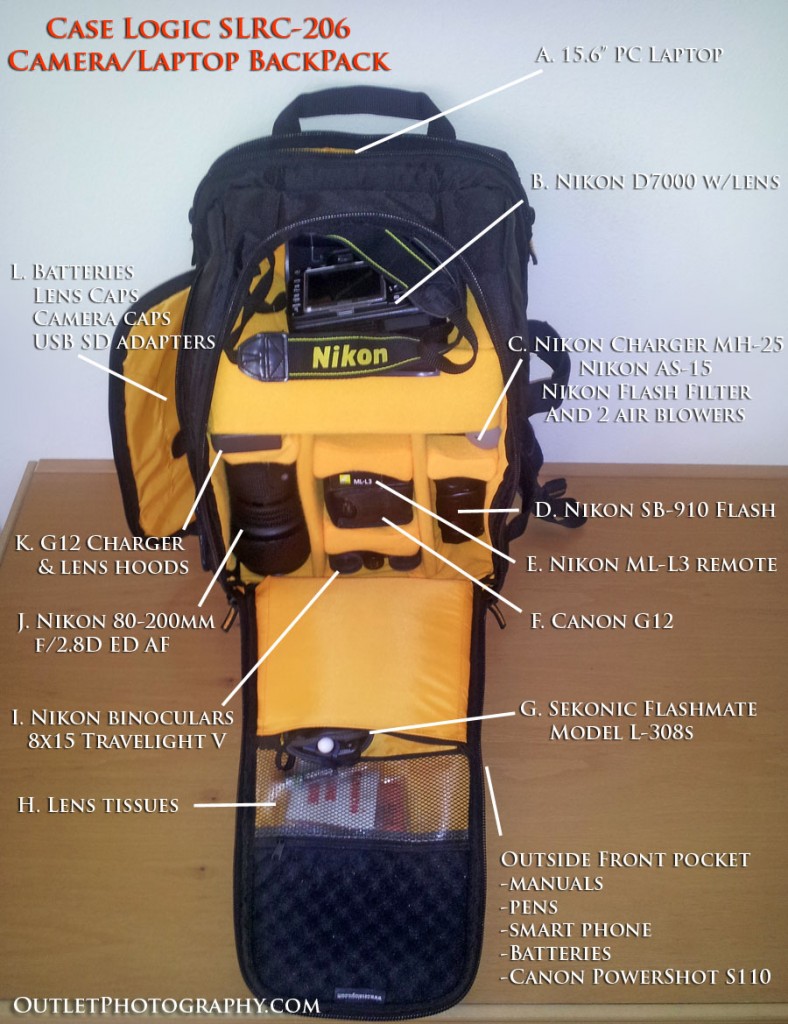 I packed the following items into this camera backpack.
Inside backpack
A.  15.6″ Azus Laptop and cables
B.   Nikon D7000 w/lens
C.   Nikon Charger MH-25, Nikon AS-15, Nikon Flash Filter, 2 Airblowers
D.  Nikon SB-910 Flash
E.  Nikon ML-L3 Remote
F.  Canon Powershot G12
G.  Sekonic Flashmate L-308s
H.  Lens tissues/cloth
I.  Nikon 8×15 Travelight V binoculars
J.  Nikon 80-200mm f/2.8D AF w/hood
K.  G12 battery charger and various lens hoods
L.  Batteries, lens caps, camera caps, USB SD adapter
Outside Front Pocket:
– Manuals
– Pens
– Smart Phone
– More batteries
– Canon Powershot S110
– Notepad
As you can see I packed it all in once I configured the movable dividers in a way that fit my gear. I've read a few reviews where some said the bottom compartments were difficult to get at because of the base. I didn't have this problem.
I find that finding the right configuration to meet your camera equipment is key to a good fit.
Camera Laptop Backpack as Carry On Luggage on a Plane
You never want to check in your camera equipment unless you want it to come back in pieces or not at all. This is why it was key for me to find a backpack that was small enough to be used as a carry on.
The Case Logic SLRC-206 was perfect for traveling. In fact, I preferred it to my hard case.  During the TSA inspection process, all I had to do is remove the laptop but my camera bag remained closed the entire time with no problem.
Then in the plan, it was easy to find a spot in the overhead compartment because it was so small! I was in a packed plane, there were no empty seats and the flight attendants were asking people to check in some of their carry on's because there was no more room. It wasn't an issue for me, because if I had not found a spot in the overhead I had already tested it and it fit under the seat! Nice!
In fairness there are two things that I didn't like, but am willing to deal with it.
First, the way the upper harness for the quick "in and out" area of the camera is configured, it is difficult to have your camera in that spot with a grip attached. A grip would need to be removed. But I found a way around that, by having two camera bodies, one with a grip (placed inside one of the dividers) and the other one without the grip as your quick "in and out" camera. Works great.
Second, although the base is waterproof, the rest of the backpack isn't and it doesn't come with a fitted plastic bag that some other do.  So I'll be looking into third party fitted plastic bags for that, it shouldn't be much of an issue, especially since I don't travel to very wet regions. But it is something to consider.
Final Thoughts on the Case Logic SLRC-206 Backpack
Overall, the Case Logic SLRC-206 camera & laptop backpack is another great buy for me. You can't beat the price, other bags I looked at in this price range are simply too small or plain junk. The Hammock Suspension System that the camera sits on makes it easy to access, which means I can spend more time taking pictures and less time thinking about what a hassle it will be to get to my camera. Oh yeah and because I didn't break the bank on a backpack I can spend more money on lenses, which is always the better route!
Which camera bag do you have? Let me know below, I'm always curious about other's equipment. Thanks!