May is National Photography Month – Start taking pictures!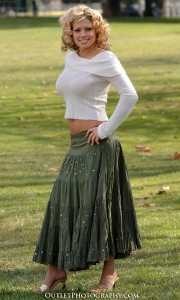 May is National Photography Month and what better way to embrace the art and practice of capturing beautiful, interesting and unique pictures.
There is so much more to photography than just photo equipment. Yes it's fun to read about and play with the latest camera or lens. But what inspires all photographers is the act of capturing cool images with their cameras.
In the U.S., Ronald Reagan first proclaimed National Photography week in 1984, it later grew to a full month. I'm not exactly sure what the initial reason it was created for, probably a push from the photo industry. But that's ok, it started a trend that each year in May photographers and non photographers embrace creativity through photography.
If you're a photographer, the best way to do this is to share some of your knowledge about taking pictures with others. Techniques about lighting, equipment or location are some of the most sought after answers by beginning photographers.
For those just starting to embrace the art of photography, here are a few tips:
Capture images that tell a story.
Set aside a few hours once a week/month and have a "photoday". Grab a friend, dress him/her up and have a fashion shoot. Or pick a theme like "circles" and head outdoors to photograph signs, buildings, cars or anything that includes circles.
If you can't find something to photograph, create it. Assemble a group of items, such as fruits or vegetables in your kitchen and recreate something you've seen on a food TV show or magazine.
Make it a habit to have a camera nearby with you at all times. If not a campact camera or DSLR at least your smart phone camera will do.
Look for events in your city or neighborhood. You'd be surprised at what crazy things take place, such as the Duck-A-Thon in Huntington Beach.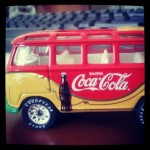 The recommendations above are things that I do all the time. Taking pictures is my passion and has been for more than 20 years now. May is a time to embrace photography and share the joy it creates with everyone. I'll start by snapping a picture of something on my desk. Here it is below:
It's a small Matchbox Coca-Cola VW Bus toy that sits next to my monitor. Nothing impressive, but thought I would share.
If you don't have a camera, then take a look at my Nikon Buying Guide, it will give you a list of Nikon cameras and their current prices. Remember, an expensive camera will not make you a great photographer, buy what you know and can afford. It's better to trade up as you learn than to buy big and not know how to use it.
Finally, share your pictures. In fact I'd like to see some of the photos you take this month. Use this page to submit your pictures, I might just share them here on OutletPhotography!  If you have a difficult time uploading the files, you can also email them to:   outletphoto@gmail.com
Be sure to follow me on Facebook or Twitter so you won't miss any of my photo updates.