How to get more views and visitors to your Flickr photostream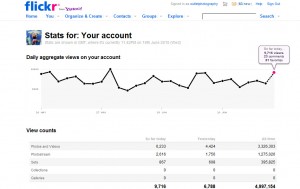 I'm sure you've heard of flickr.com, a photo sharing and hosting site. Many of my photographer and non photographer friends have accounts on this site. I too have a flickr account and often get emails from people asking how I get so many views to my flickr "photostream". As you can see from the screen shot on the left, this shows the total amounts of views so far for today, yesterday and since I joined flickr back in late 2008.
First I want to say that flickr is free to join, it doesn't cost anything, although they will limit the total amount of pictures you can share to a total of 200 images. Also, the free account will not include the "stats" page, which is what I'm showing you in the image to the left. In order to have unlimited photos and stats, it does cost $24.95/year for a "pro" account. Do you really need a "pro" account? At first, no, in fact I didn't get a pro account for several months. I first learned how to use the site.
Back to increasing views to your flickr photostream. There are a couple of things I do to maximize my photo exposure and you can do the same, it works on a free or paid accounts. First, always add a title to your image that describes it properly. I see so many images uploaded to flickr by other members, some with no titles or they include the camera file number as the title. For example, DSC_4545 or some other random number. Why is it important to have an actual title for an image? Because this is the way people search for images, both on flickr and google. Flickr members may be looking for a picture of a red rose on a white background, so if your picture of a red rose on a white background has a title of DSC_7878, it will never show up on the search results.
The images on flickr are also picked up on google "images" all the time, but only if they have relevant titles. This also applies to the "tags", use these to add more specific descriptions of your image. Many flickr members always wonder why they don't get many views or comments on their images and blame the quality of the image they are taking. For the most part this is not the case. It really does come down to properly setting up the upload so that flickr and search engines can find them. For example, I'm not the greatest photographer nor are my images the best out there, but I do try to add titles and tags that properly describe an image. I also try to be as specific as possible.
A good example of this working can be found by searching for "ultimate blond woman" on flickr. As of this posting, two of my flickr images are on the top row. Using the proper titles for images, sets and collections on flickr will increase your flickr photostream views instantly. Again, this works on a free or paid account, however its nice having the stats page on the pro account to see where your visitors are coming from.
Finally, try joining a flickr group that is in the same genre as your photostream. Add a few pictures and before you know it, you'll be exchanging positive comments about your and others pictures. One reminder, always follow flickr's rules, by moderating your pictures properly otherwise flickr can and will tag your account as unsafe and your photostream will not be picked up by the search results.
Hope this helps. Good luck and have fun!