How an "Err" Message on my Nikon DSLR Meant a Broken Shutter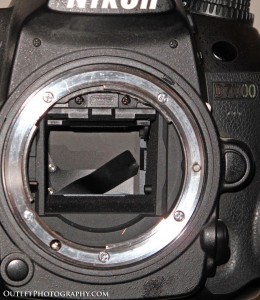 Did you get an "Err" message on your Nikon DSLR? It happened to my D7000, I'll explain what it means and its cost to repair it at the Nikon Service Center.
Earlier this month I was taking pictures at the US Open of Surfing in Huntington Beach. On day six, after shooting several hundred photos by 1pm I took a short break. When I resumed a few minutes later and pressed the shutter to take a photo, my Nikon D7000 made what sounded like an odd noise.
DSLR cameras have a unique sound when the shutter is released. First it's the mirror moving up, then it's the shutter blades opening and closing, followed by the mirror coming down again. All this happens instantaneously.
This time however, I could tell that the only movement was the mirror moving up and locking.
The screen on the top of the camera read "Err" and kept blinking. I was puzzled, it was the first time this had ever happened.
My camera had a little over 30K actuation's, so I didn't think the shutter was the issue, it's designed to last on average over 100K actuation's (photos taken). (Read here how you can view your camera's shutter count)
What NOT to do when you get the "Err" message
So what did I do? I proceeded to turn on and off the camera, that didn't help. I then changed lenses and removed the batteries, still no change. The mirror lockup function to clean the sensor was not an option on the menu, it would not allow me to do it.

Finally, I headed back to my car. Back in the car I decided to turn on and off the camera again, this time I noticed that the "Err" message disappeared. "Yeah" I screamed in my head and thought to myself "I'll try to take a picture and see if it's all ok". This was the worst decision I made that day.
When I pushed the trigger, I heard a terrible noise. It was a combination of the shutter sound along with paper crumbling, but VERY loud. I knew then what had happened.
As I removed the lens, (mirror was in the up position) one of the shutter blades was completely bent. See picture above.
The Nikon manuals state that when you get an "Err" message it needs to be sent in for repair. It seems that when the shutter gets misalinged or stuck in some way, the camera is programmed to stop working and give that "Err" message. It will lock the mirror up and "freeze" the shutter to prevent further damage.
I know that others have been able to remove the lens and clean the "contacts", giving the impression that they are not communicating well with the camera. However, I don't believe this is the issue and according to the Nikon repair person it's tied to the shutter, not the lens.

In my case, the shutter got damaged because during my walk back to my car as the camera hung on my strap and bounced against my body, it "un-froze" the shutter and allowed me to take an additional picture. But due to the misaligned shutter blade that caused the "Err" message, by triggering it to move by taking a picture, it didn't close properly. Thus hitting part of the internal mechanism and bending the blade, making the repair more costly.
Luckily I live within driving distance from the El Segundo Nikon Repair Center and took it in the following week. By the time I got home from dropping off the camera at Nikon, I had already been emailed an estimate for the repair. (My camera was past it's warranty period.)
This was it.
Nikon Repair Cost
B2 Service Repair Rank B2   –  $224
Shutter Blades Broken
Replace Shutter Mechanism
I figured it would be around that amount, so I wasn't too shocked. Nikon usually categorizes repairs in groups called B1, B2, etc. With general prices for each based on camera and degree of repair. After approving the estimate and paying for it online, I was notified about 5 days later that it was fixed and ready for pickup.
The service person said that if I had not clicked the shutter and bent the blade, the cost to fix the regular "Err" message would have been less than my "Rank B2" repair. They didn't say how much, but I'm assuming at least $100 less.
Moral of the story? If you get an "Err" message on any DSLR camera, don't mess around with it, take it to the service center, otherwise it may end up costing you a lot more money.
I was wrong earlier to assume it was not connected to the shutter simply because my camera had about 30K actuation's. Shutter's generally last more than that, but it is not guaranteed. Lots of factors can contribute to an early death of your shutter.
Finally, the cost issue. If your shutter is dead or you get the "Err" message, the cost will vary depending on your camera model. For lower end models, I'm assuming it will be less than what I paid. For higher end models I'm sure it will cost more. Best thing to do is send it in to Nikon for the free estimate. For repairs in NIKON USA go here.
Have you had the "Err" message? What happened? What was the outcome? I'm curious to hear other's experience with this issue. Leave a comment below. Thanks!