High Resolution Photos from the Nike US Open of Surfing 2011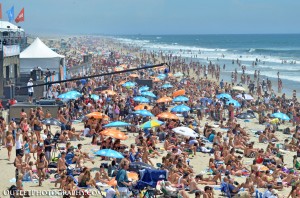 This year over half a million people are expected in Huntington Beach for the 2011 Nike US Open of Surfing. There are hundreds of amateur and pro photographers covering this event. I've added a gallery of High Resolution photos from the Nike US Open of Surfing 2011 at the bottom of this article.
For the past week I've been going almost every day enjoying the weather and covering this massive event. You've probably noticed that I haven't updated this site in a while, it's mainly because I've been preparing and spending time at the US Open.
As a photographer, an event like this simply can't go by without photographing it at least for one day. The event runs for nine days, so there's many opportunities to experience and/or practice your sports photography skills. It's also a great place to meet many other interesting photographers.
I don't have a 300mm 2.8 lens, but I did very well with my 80-200 2.8mm AF-D Nikon. In fact, I've seen many photographers with regular consumer lenses taking some great shots of the surfers and spectators.
This event is more than just a surfing contest, the organizers literally build a temporary city on the sand with live concerts, stores, bmx and skating venues. With 80+ degree temperatures on the beach, you can imagine the number of people and photographers attending the 2011 US Open of Surfing.
I shot the event for several other sites, including the OC Surfing Pictures website. Here is a high resolution gallery from the past several days. The event is not over yet so I'll probably share more pictures in the future. All images were shot with a Nikon D7000 with a Nikon 80-200 2.8 AF D lens and a Canon G12.
Some of the photos include Kelly Slater, Haley Watson, Alexa Frantz, Nat Yeomans and more.




Note: You can see the current year's US Open of Surfing photos HERE.

View as a Gallery above or use the direct links to the images below: