Great Blue Heron shot with a Canon Power Shot SX130 IS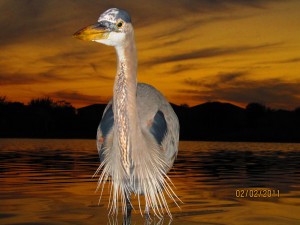 Rick, who is a reader of this blog emailed several images of a Great Blue Heron taken with his Canon Power Shot SX130 IS camera.
I'm always impressed at the quality the Canon Power Shot cameras can produce. I especially like the nice balance of exposure, with the background. The image on the right has nice flash balance in conjunction with the background.
As always, the Canon Power Shot line shows it's strengths in these images. Rich color, great exposure balance and tack sharp! According to Rick, he used the "sunset mode" with the following settings on his camera when both images were taken:
– ISO speed  ISO-160
– Exposure bias -1.3 step
– Focal Length 10 mm
– Max Aperture 4
– Metering mode- pattern
– Flash, compulsory, redeye
– Date stamp – On
Considering one can buy the Canon Power Shot SX130 IS at Amazon for under $195, I'd say this proves it's not necessary to spend thousands of dollars on a camera to create great images. Aside from the date stamp, images like these would look perfectly printed, framed and mounted on any office or home.
Rick states that he's taken over 40K images on his Canon Camera's, I'd say he's got the knack for getting it right, wouldn't you say? I'd like to thank Rick for allowing me to share these images here on Outletphotography, and encourage others to do the same. If you feel you've taken a "winning" shot with your camera and would like to share it here, use the "About" page to send it in or for larger files, use outletphoto@gmail.com.