First beach photo walk of 2011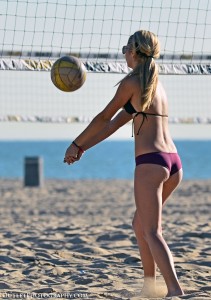 This past week we continued to have record high temperatures in southern California, so I asked a few friends to join me at the beach for a photo walk. For this short trip, I used both my Nikon D7000 and my Canon G series. It's difficult to believe we could have 80 degree days in January!
The surf wasn't high, so not many opportunities to photograph the surfers. Luckily, this is the perfect place to catch a good volleyball match in the sand. Dozens of games were going on and these people are really good. I'm always surprised at how physically fit, especially the female volleyball players are, they really get into it!
How is the weather where you live? It doesn't need to be perfect weather for a regular photo walk, so why not try this in your town or city? You'll be surprised at what new things can be found when you have a camera in your hand.