Enter to win a Canon 5D Mark III or Nikon D800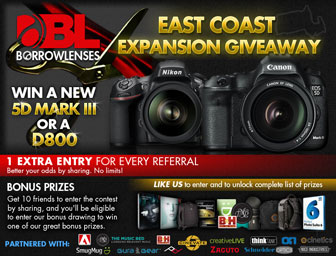 Update: This giveaway has now expired.
Borrowlenses is once again giving you a chance to win either a Canon 5D Mark III or a Nikon D800. They are celebrating a new expansion location in the East Coast so what better way to let everyone know right?
They did this last year and it was a big hit. I of course didn't win, but maybe this time one of you will! Two of the hottest most sought after full frame camera's in the market right now, so I'm assuming every photographer will enter.
It's through their facebook page, so you'll need a facebook account to enter. Contest ends March 17, 2013 at 11:59PM PST.
Here's how to enter for a chance to win a 5DMark III or D800:
-Visit the Borrowlenses Facebook page.
or
– Click on the banner above.
Good luck and let me know if any of you win!
Note: OutletPhotography.com is not associated with this giveaway or promotion. Any questions regarding it should be directed towards Borrowlenses through it's website or facebook page. Contest ends March 17, 2013 at 11:59PM PST.