Does Nikon or Canon Donate Cameras to Schools?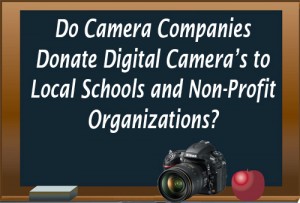 Have you ever wondered if Nikon donates digital cameras to local schools? What about Canon? Well, the answer is both yes and no. Let me explain.
Most companies, for marketing and tax reasons, try to support national non profit organizations. One, they get a tax break and two, it gives them national brand exposure. It's sort of an even exchange.
But that doesn't mean a local nonprofit organization or school can't get a small piece of that pie (camera's) if they try. There's more to it than knowing where or who to ask, its how you do it!
First lets start with Nikon (USA), which recently donated digital cameras to local Jr High Schools for a photo book project. Here in the US, Nikon has a special Sponsorship Committee (see address below) that it's sole purpose is to review the countless requests from people, schools, non profit organizations and just about anyone. But does that mean they will get it? Probably not.
Asking for donations (sponsorship) of digital camera's by a local school or non profit organization might sound like an easy task. But I suspect the main drawback which most people forget to understand is what's in it for the Sponsor?
If you're going to write Nikon USA asking for digital cameras for your school, you've better have a good sales pitch. Be sure to include:
Why your school/organization needs it
How it will be used
What will be the benefits to receiving the donations
And more importantly, how will this help/increase the exposure of the sponsor brand in at least a regional or national manner.
This brings us to my second point, lets look at Canon. Their Environment & Community talks about it's commitment to non profit organizations and it's corporate social responsibility. When you scroll through the tabs on the left you'll see how they sponsor many large non profit organizations. The reason they favor big organizations has to do with reputation and the fact that they reach a much larger audience, thus name brand exposure.


So when asking Nikon, Canon or any camera company for donations of digital camera's for your local school or non-profit group, be sure to:
Write out a detailed plan addressing some of the points I mentioned above. Include photos and video to illustrate your organization and those that will benefit from it.
Think big when it comes to the exposure your plan can provide to the camera company.
Be unique, if you're just another group asking for free camera's, then you'll waste your time and theirs.
Here is the link and address to Nikon USA Sponsorship Committee:
Nikon Inc.
Attn: Sponsorship Committee
1300 Walt Whitman Road
Melville, NY
11747-3064
Here is the link to Canon's Environment & Community page where you'll find the different ways they get involved with the community.
Finally, this brings us to the initial question, will Nikon or Canon donate digital cameras to your school, class or organization? Chances are no, but the fact that they have don'e it in the past leaves a small hope for you few out there that have an original plan to try. So I wish you good luck and let me know if you succeed!
*Outletphotography.com is not associated with either Canon or Nikon, we are providing this information (which can be found online publicly) for informational purposes only. There is no guarantee that your request to the companies will be fulfilled or honored.