Delay on the new Nikon D7000 shipments?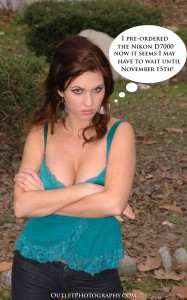 The new Nikon D7000 announced last month and many people pre-ordered hoping to get it mid October may have to wait. Several people have stated the online stores are now saying first shipments will be November 15, early estimated time was late October. Seems some online companies sold out their allotted first shipments and are now taking orders for further shipments, maybe to arrive in mid November and early December.
The Nikon D7000 will be the hot photography item for the Holiday season, that's if you can get your hands on one. I plan on purchasing one, I wish I had pre-ordered last month, although I may still do it this week in hopes of getting it by the Holiday season.
Amazon for example has this on its availability:
"Note on Availability: This item is in high demand and supplies from the manufacturer are limited. Its availability will fluctuate, and if the item is not currently in stock, we cannot guarantee that we will receive additional quantities in a timely manner. We will not charge your credit card until we ship the product."