Day & night photos taken with a Nikon D7000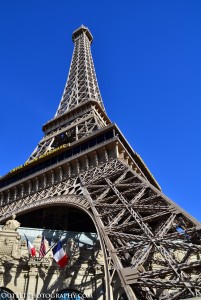 This past weekend I enjoyed a short trip to Las Vegas, a great place to take day and night photos with my Nikon D7000.
We stayed at the Paris hotel, right in the center of the strip. With my Nikon D7000 and an AF-S 18-70mm 3.5-4.5G ED Nikon lens, I captured this colorful shot of the Eiffel Tower. Camera was set to Shutter Priority, using an ISO of 100 and f/6.3 at 1/400 sec., and the focal length was 18mm. Other than a small cropping out a small part of the bottom and left side, the image is exactly as the camera recorded it, no color correction or manipulation was done on PS.
On my D7000 Picture Control, I had it set to Vivid, with Sharpening at +1 and Saturation to +1. Some may think it's hassle to make these adjustments, but I see them as an advantage. Having the ability to make such small changes, allows me to have full control of the camera settings. A big advantage over many other camera models I've used in the past.
My second image, was shot hand held at night. Using an ISO of 1000, again with a focal length of 18mm to get that wide angle, I set the camera to Shutter Priority a 1/125 shutter speed and f/3.5. I was surprised to see the image so sharp since my lens does not have the vibration reduction feature. Again, the Picture Control settings were set exactly as the Eiffel Tower image, making the colors pop in the dark night. At an ISO of 1000, noise on the image is nonexistent.
I keep reading online that the Nikon D7000 produces dull colors. Sorry, but I have not experienced that issue. Dull or soft colors, along with soft focusing has to do with camera settings. I'm not saying the photographer (amateur or pro) are making errors, instead it's that the D7000 requires more user knowledge about the equipment. It's taken me several weeks and hundreds if not thousands of photos later to figure this out.
I really like this camera because it challenges me to learn more and pay attention to the small details. All the photos taken this past weekend, day and night, with my Nikon D7000 were sharp and popped with vibrant colors, and you know why? Because that is how I set up my camera to take it! Adjust the settings for your preferences, you'll love the results.
You can see the full line of Nikon Camera's on our Nikon Buying Guide.