Canon PowerShot G1 X Arriving in March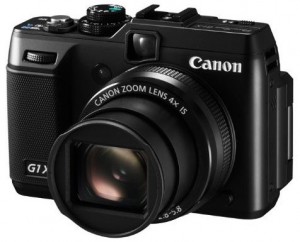 Canon is scheduled to release the new Powershot G1 X this March, 2012. In fact you can pre-order it through Amazon, they have a release date of March 31, 2012.
Why haven't you heard much about the Canon G1 X? Here's what I think…the price, it will cost $799. Most of the previous Canon G series were about $450-$500 when they first hit the market. In fact you can get a new Canon G12 right now for only $395.
But don't confuse this with a replacement to the Canon G12, this model seems to be more of a new line that Canon developed.
I've owned the G10 and G12, honestly it serves a good purpose when you don't want or can use a DSLR. Like the G10 and G12, the Canon G1X is tailored towards the advanced and pro level photographer.
Seems Canon is confident these users (who generally pay high prices) will fork up a few hundred more. Will they? I'm sure they will. Don't get me wrong, as advanced compacts go, this one is on top. It has some nice features:
Canon Powershot G1 X Features
1.5-inch, 14.3 Megapixel High-Sensitivity CMOS Sensor
4x Wide-Angle Optical Image Stabilized Zoom Lens
Full 1080p HD Video
3.0-inch Vari-Angle LCD
Price: $799
You can pre-order the Canon G1 X at these locations: Amazon – Adorama
I've enjoyed my Canon G10 and G12, I've love to have a G1X but I'm not sure if I'm willing to pay $800 for this one. What about you?
Below is a quick look at the Canon G1 X. Video by WhatDigitalCamera.