Canon Lens EF-S 55-250mm f/4-5.6 lens w/filter for $144 Deal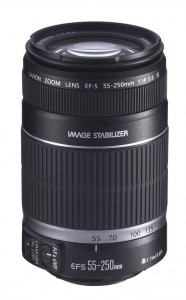 A quick update to let Canon users know that you can get the Canon EF-S 55-250mm f/4.0-5.6 IS Telephoto Zoom Lens plus a free Tiffen Filter for only $144. It's available at Amazon, these normally sell at B&H and other online stores for $200-$300, so it's a pretty good deal.
At this price, it would be my "danger" lens, you know the one you take on risky adventures like being knee high in water or other messy places. It's an ok lens as it is, but at $144, it's a great lens. 😉
To also get the Tiffen Filter for free, add it to the cart after you add the lens. The price of the filter should be removed as you go through the checkout process.
A 55-250mm Canon lens for $144, I don't think you can go wrong with this one. Especially good for a Christmas gift for that Canon user in your family.
Expect to see many online camera and lens deals in the next couple of weeks. This is one of the times each year that I personally purchase camera equipment.