Canon 5D Mark III free giveaway by Pictureline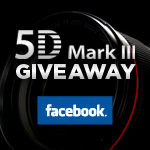 Update: This offer has expired.
Pictureline is having a Canon 5D Mark III camera giveaway on their Facebook page. It's free to enter, (U.S. & Canada residents only).
Just like they did earlier this month by giving away a free Nikon D800, this time it's with the latest Canon camera, the 5D Mark III.
Here's what you need to do to enter.
Go to the Pictureline facebook page and "like" it. It's the button on top.
Then fill out your name and email.
That's it!
You only need to do it once. The giveaway starts today and ends on April 25, 2012, just a few weeks away!
Outletphotography.com is not associated with Pictureline or this giveaway, so any questions regarding it should be made to  Pictureline on their Facebook page.
Good luck and may the Canon odds be in your favor! 😉