Best place to rent camera equipment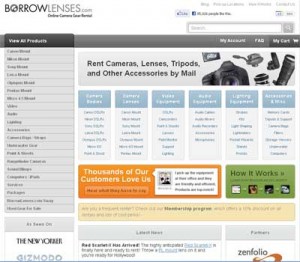 It's no secret that many pro photographers and especially photography review sites (like this one) rent camera equipment on a regular basis. Yes, I spilled the beans, here on this site I occasionally rent camera's and lenses for personal use as well as to write reviews. Most local camera shops have a rental department, but I only use the best place to rent camera equipment; Borrowlenses.
First allow me to share why I rent camera equipment instead of buying it:
Testing – It's a great way to "test" a lens or camera to see if it fits my needs.
Cost –  For a fraction of the cost (about 5% of the cost of the item), I can use a camera or lens for several days.
Growth – Allows me to "grow" as a photographer by using equipment I otherwise could not afford.
Latest equipment – I use the newest and latest equipment, allowing me to be up to date on new photo technology.
With so many options locally as well as online why I use Borrowless to rent equipment:
Easy – it's one of the easiest ways to rent photo equipment. From initial order to returning item.
Inventory – The inventory of equipment is large and seems its continuously getting larger.
Customer Service – Probably one of the best customer service experiences I have ever had. Quick replies to emails and phone calls.
Growth – The company seems to be in a growth mode, providing some local pickup locations in California for those not wanting to wait for mailed rental equipment. I suspect they will start making partnerships with other rental/camera shops in other states very soon.
Affordable – You don't need to be a pro to rent with them, the prices are very affordable, making it available to all.
Canon, Nikon, Sony, Leica – No matter what major digital camera system you use, they carry it.
Fun – I know it sounds silly, but these guys make renting equipment fun! See video below.
Finally, I want to touch on what I mentioned earlier about camera sites renting equipment. This is normal practice for most of the major photography review sites, the legitimate ones that is…by that I mean if Nikon or Canon "lends" or "gives" a camera to a site for a review, is that a truly unbiased article? I'll let you answer that. But if a site spends their own money and rents a camera to do a review, the article I'm sure will be more critical and ask/answer the right questions about the equipment.