Angelina Jolie look alike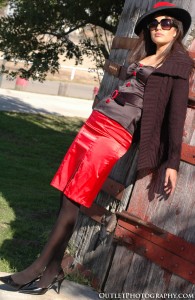 You probably remember my earlier post showing this model who I believe looks very much like Angelina Jolie. Her facial features resemble her so much. In this photo on the right, I had her wear a very conservative red skirt, blouse and matching hat. It was late afternoon, so the sun was too bright for her to pose in this angle without the sunglasses.
Angelina Jolie is always on the news, so when I met this model for the first time, I had to do a double take. I must have been staring at her the first few minutes, because she instantly made a comment saying, "yes, I know I look like Angelina Jolie". I chuckled and realized I was not the first to make this connection.
Either way, its fun working with her. She's a very intelligent woman and into sports. Its always nice photographing fit models, there are so many posing and outfit possibilities with them that regular models sometimes cannot pull off.
Would you like to see more of this model here on Outletphotography.com? Let me know.